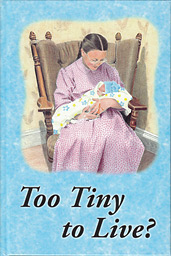 Too Tiny to Live?
Hard cover
188 pages
0.828 lbs
Item #1-2571
Big brother Jerry's eyes are sober as he hangs up the phone. "His name is Marcus Ray," he announces. "He weighs only one pound and seven ounces. Marcus is doing okay for now, but he is almost too tiny to live."
Too tiny to live? For ten-year-old Kathy, the news is frightening and hard to understand. She has been looking forward to a new baby nephew, but now he is in a big city hospital, fighting for his life. Is it even possible for such a tiny baby to survive? Only God knows, and Kathy and her family place little Marcus in His loving hands.
Table of Contents

1. "One Pound and Seven Ounces"
2. "Too Tiny to Hold"
3. "If He Lives..."
4. "Itty-Bitty Diaper"
5. "More Wires and Tubes Than Baby"
6. "God's Plan for Marcus"
7. "Janice Holds Marcus Today!"
8. "One Little Open Eye"
Customers who bought this product also bought
Customers who viewed this product bought