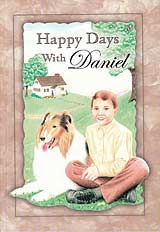 Happy Days With Daniel
Paper cover
108 pages
0.33 lbs
Item #1-2532
Daniel enjoys being a helper. He gathers vegetables from the garden for Mother and puts tools away for Father. Each day is a day of helping and learning for a seven-year-old boy.
Daniel also enjoys playtime with Laddie, his big collie. Laddie can play ball and do some tricks. Daniel loves his pet, and he is sad one day when Laddie gets his foot caught in a raccoon trap. He worries about his pet, but Father assures him that God cares even about dogs like Laddie.
Daniel enjoys his friends too, and he wants to cheer them up when they have hard times. His friend David must sit in a wheelchair every day. Thomas has a broken leg, and cousin Nevin has diabetes. Daniel wonders why God allow some people to have so much sadness in their lives.
Through his daily experiences, Daniel finds joy and contentment in knowing that God cares for each of His children in the way He knows is best.
Contents

1. A Willing Helper
2. Laddie Hurts His Foot
3. No Games for Laddie
4. Clean for Church
5. What Is Diabetes?
6. Two Friends for Daniel
7. A Needle Prick for Nevin
8. Nevin Feels Sick
9. Happiness for Daniel
10. Daniel's Mistake
11. Daniel's Bad Bump
12. To Think of Others
13. Happy David
14. Daniel's Purple Nose
15. A Surprise in Town
16. Daniel's Tractors
17. A Surprise for David
18. A Surprise for Thomas
Customers who bought this product also bought
Customers who viewed this product bought