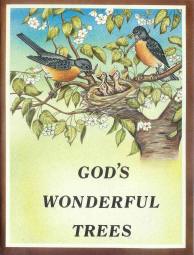 LJB - God's Wonderful Trees
Soft cover
24 pages
0.14 lbs
Item #1-2527
A story-poem about many wonderful benefits and gifts the Lord has given us in trees.
God's trees are a wonderful gift.
They make the earth beautiful.
What can a tree
Do for me?

A tree gives wood
To build our house
And wood to build our barn.
A tree gives wood to make our fence
And chairs to sit upon.

...
keywords: Gods
Customers who bought this product also bought
Customers who viewed this product bought