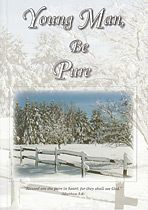 Young Man, Be Pure
Paper cover
64 pages
0.148 lbs
Item #1-2489
In society today, moral standards are rapidly being cast aside. Christians must be on high alert to keep from being carried out to sea with the tide. No one is immune to this danger. The perfect, natural passions and desires that God placed in men at Creation have been corrupted by the devil into the most subversive and degrading influence known to man.
The battle for purity is often intense. In the face of temptation, it is difficult to lay aside our passions and make prudent decisions. This book clearly explains what moral purity is and helps young men and their mentors understand the battle that Satan wages in his efforts to bind all of us by sensual desires.
Moral purity is a birthright that God has entrusted each one of us. He greatly desires that we walk with Him in holiness, and He has given us every resource we need to live in freedom, above the dissolute society around us.
"Let no man despise thy youth; but be thou an example of the believers, in word, in conversation, in charity, in spirit, in faith, in purity" (1 Timothy 4:12).
Table of Contents

Chapter 1

Defining Moral Purity
What Is Innocence?
What Is the Transition From Innocence?
When Does Temptation Become Sin?
What Is the Course of Sin?

Chapter 2

The Battle for the Soul
The Sin of Fornication
The Moral Power of Marriage
The Deception of Impurity
What Sin Robs
Presumptuous Sin

Chapter 3

Recovering from Defeat
The Role of Mentors
Fleeing Temptation
Walking in Holiness
Customers who bought this product also bought
Customers who viewed this product bought