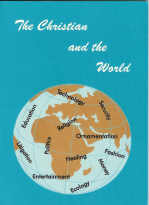 The Christian and the World
Paper cover
139 pages
0.28 lbs
Item #1-2479
God has called every Christian to come out of the world. Yet, even though we are no longer of the world, God has chosen to leave us living in the world.
But the genuine Christian is somewhat of a misfit in a worldly society. His goals and priorities are different from those of the world. He looks different, acts different, talks different, and even thinks different from the worldly person. Yet, in spite of these differences he must continue to relate to the world because he lives, works, and witnesses in the world.
How should the Christian relate to the world's education, economics, politics, entertainment, insurances, technology, and fashions? How can we live in the world but not become worldly?
Customers who bought this product also bought
Customers who viewed this product bought