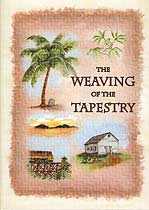 The Weaving of the Tapestry
Paper cover
126 pages
0.28 lbs
Item #1-2478
Now that he had reached the "old age" of twenty, Daniel Yoder faced the normal life decisions of a young man. Knowing that these decisions would affect his entire future, he wanted to choose wisely. Was God calling him to continue his service at home on the carpenter crew? Or was God calling him to teach at one of the many schools who were still needing teachers? If so, which school should he choose?
What should he do about finding a life's companion? Although he knew many fine girls, it did not seem as if he had found the right one. Did God have a godly young women for him—somewhere?
God would make His placements where it pleased Him, and Daniel had only to follow. The years ahead would prove that the threads of life were not all golden. Dark strands wove their way through the light ones; and together, they made a beautiful pattern, woven by the Master's skillful hand.
Customers who bought this product also bought
Customers who viewed this product bought