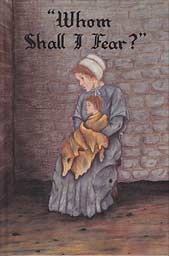 "Whom Shall I Fear?"
Hard cover
228 pages
0.92 lbs
Item #1-2469
Knock! Knock! Knock!... The door burst open....
"Peirsom, run for your life. Titelman is on his way to get you."
Again the scene of peaceful family life was changed to confusion and terror.
This is the second time the Inquisitors have come after Peirsom des Mulliers of Flanders, an Anabaptist minister, for refusing to be a part of the state church.
His wife, Claudine, has struggled long with dread and uneasiness over what the future might hold for her dear husband and their family of four little children.
As Claudine thought of the martyrs and what they suffered, fear gripped her heart. How must it feel to be racked, whipped, or burned at the stake? How could anyone endure such terrible pain and suffering? She shuddered to think of it.
Claudine daily faces the uncertainty of the future, struggling with her fears, even considering the possibility of giving up the faith to avoid suffering the separation of their family. Taken from a psalm, the words "Who shall I fear?" become the moment-by-moment question and decision point in her life.
May the Lord use this true and stirring story to help every Christian today face the reality of what the future could hold for him, and to be resolved and fortified in his personal answer to "Whom shall I fear?"
For Christian young people and adults.
Customers who bought this product also bought
Customers who viewed this product bought