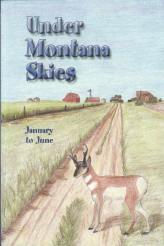 Under Montana Skies - January to June
Paper cover
213 pages
0.58 lbs
Item #1-2457
First book of the Under Montana Skies series.
Rachel Appleby and her twin brothers Kent and Kurt find living in the northern state of Montana both exciting and challenging.
When the winds, snows, and below-zero days that have held them in winter's relentless grip suddenly give way to a beautiful balmy spring, the three Appleby children are filled with excitement as they explore the wonders and secrets of the advancing seasons.
They keenly enjoy God's beauties and the wonders that surround them—the flowers, the wildlife, the wonders of weather, and the large sky overhead.
Written to stimulate our children to love and explore God great creation.
Contents

JANUARY to MARCH

Foreword
1. A Sun Signal
2. White and Wild
3. Weatherman Beginnings
4. Freeing the Thermometer
5. Welcome, Arctic Visitors!
6. A Winter Treat Spot
7. Guest From the Polar Regions
8. Hoarfrost and Chalcedony
9. A Sight to Be Remembered

APRIL to JUNE

10. A Mare's-tail and a Mourning Cloak
11. Kent Turns Landlord
12. A Breath of Spring
13. Weather Flags, Woodpecker Housing, and Wildflower Records
14. Sharp-tailed Grouse Parade
15. Sand Lilies and Cattail Biscuits
16. A Day at the Yellowstone River
17. Happiness at Dawn
18. The Sego Lilies
19. Branding Day
20. Bird Nest Collection
Customers who bought this product also bought
Customers who viewed this product bought