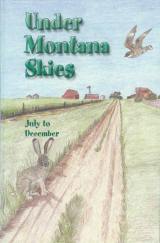 Under Montana Skies - July to December
Soft cover
224 pages
0.6 lbs
Item #1-2454
Second book of the Under Montana Skies series; sequel to January to June.
Rachel Appleby and her twin brothers Kent and Kurt find living in the northern state of Montana both exciting and challenging.
Through summer's pleasant days to winter's snowy weather, the Appleby children are filled with excitement as they explore the marvels and secrets of the advancing seasons.
They keenly enjoy God's beauties and the wonders that surround them—the flowers, the wildlife, the weather, and the large sky overhead.
Written to stimulate children to love and explore God's great creation.
Contents

JULY to SEPTEMBER

1. Balls of Ice
2. Wild Foods for a Change
3. The Face of the Sky
4. A Drink for Swallows
5. Bumblebees and Bobcats
6. Singers in the Night
7. Watching the Thread-waisted Wasps
8. Ten Petals and Twenty Toes
9. The Greatness of His Power
10. Nighttime Encounter
11. Needles and Shovels

OCTOBER to DECEMBER

12. What Beautiful Dust!
13. Flaming Heavens
14. Voyage Through the Sky
15. The Robber
16. Hoofs and Antlers
17. Mother Tells About Her Mottoes
18. The Nimbus, "Bottles of Heaven"
19. More Mottoes and a Letter for Robert
20. Let the Wind Roar
Customers who bought this product also bought
Customers who viewed this product bought