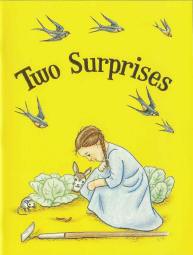 LJB - Two Surprises
Soft cover
24 pages
0.14 lbs
Item #1-2453
Emy Lou surprises Mother and Mother surprises Emy Lou.
Emy Lou's bare feet skipped lightly down the garden path. Today was the first barefoot day in early summer. The garden ground felt warm and crumbly between Emy Lou's toes as she ran along between straight rows of onions and peas. The pea vines had dainty white blossoms where peas would soon grow.

"What can I do?" Emy Lou asked a fat robin that perched in the apple tree. "What can I do to surprise Mother?"

The bright-eyed robin cocked his head and watched Emy Lou. Then he spread his wings and flew away.

...
Customers who bought this product also bought
Customers who viewed this product bought