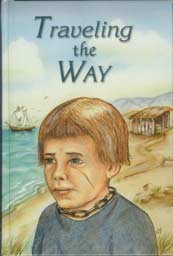 Traveling the Way
Hard cover
152 pages
0.7 lbs
Item #1-2445
The story of Cleon, a Gentile boy who lived in the time of the apostles.
Life for Cleon as the slave of Marcus Vitruvius was no joke. Marcus Vitruvius was noted for his disagreeableness and terrible temper.
Running away did not turn out quite as Cleon had expected. A home is not a home unless one is loved and accepted there. Could Cleon find a home? And if he could, would he win the love of the family he found?
Along with the racial prejudices that Cleon came up against, was the choice of a religion. Pagen, Jew, Christian—they were all mixed up. Who was right?
Although this is not a true story, it shows clearly the struggle the Jews faced to overcome their ideas about how the Messiah would come and to realize that Christ came for all men—both Jew and Gentile.
A story for ages twelve to adult.
Customers who bought this product also bought
Customers who viewed this product bought