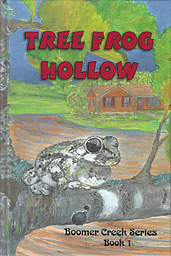 Tree Frog Hollow (Book 1) - "Boomer Creek Series"
Hard cover
154 pages
0.734 lbs
Item #1-2422
Rain! Darkness has fallen, but eleven-year-old Luke Burkholder can see water streaming down the pane. Overhead, rain pounds on the bungalow roof.
The brown waters of Boomer Creek have already flooded almost to the edge of their lawn. "What if we get even more rain? Might the creek flood our house?" he had asked Grandpa earlier that day.
Grandpa had lived at Tree Frog Hollow for many, many years, and his lined face crinkled into a smile. "Hardly. But even if we did get a flood, remember the tree frogs' lesson: Trust in God."
Luke has many occasions in the following days to remember Grandpa's words and put them to practice.
Contents

1. Tree Frogs and Trust
2. A Flood!
3. Emergency Room
4. Shoes for Luke
5. Good Shepherd
6. Sunday Afternoon
7. The Flood of 1972
8. A Resolve and a Failure
9. Life Lesson
10. Not the Most Important
11. Queenie
12. The Stone of Help
13. Carrots and Weeds
14. The Professor
15. To Have a Friend
16. An Owl Report
17. Leapers and Peepers
18. Attitudes Change
19. Lay It Aside
20. Haying Time
21. And Trusting
Customers who bought this product also bought
Customers who viewed this product bought