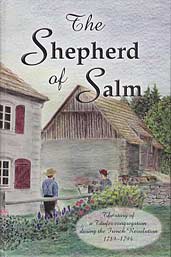 The Shepherd of Salm
Hard cover
348 pages
1.16 lbs
Item #1-2408
The story of a Täufer congregation during the French Revolution (1789-1794)
"What's going on here?" a voice thundered. "I wish you Täufer would get out of here!"
Christian Gerber jumped. Who? What? Why would anyone be so angry?...
He tried to remember. Something about that voice seems familiar—that German with a heavy French accent. Who can he be?
To Christian, Paris seemed far away that summer afternoon in Salm, and he did not guess how the uprisings the stranger described would affect the the next years of his life or disrupt the home he hoped to share with Anna Küpferschmitt or call him to the greatest privilege God grants His children—the opportunity to lay down life to gain Life. Yet, Christian had placed his faith in the Shepherd, and he was ready to follow.
The Shepherd of Salm is a carefully researched and fully documented story of real people in real places. Some of this material has been gleaned from resources that were freshly translated into English specifically for this project.
Contents

1. The Contrast Between (Late June 1789)
2. The Wagging Finger (July 1789)
3. Christian's Vision (August 1789)
4. The Trust in the Tower (September 1789)
5. A Mantel and a Mirror (March 1790)
6. The Pending Question (March 25, 1790)
7. "Thou Shalt Not Be Afraid" (May 1790)
8. Terror by Night (August 1790)
9. Beauty for Ashes (August 1790)
10. A Roof for a Home (November 1790)
11. The Unknown Way (March 1791)
12. Flames in Schirmeck (Late Spring 1792)
13. New Responsibility (July 1792)
14. "Even So, Father" (Late August 1792)
15. "Fear Not, Little Flock" (September 1792)
16. Goupilleau de Montaigu (March 1793)
17. The Commissioners Come (April 1, 1793)
18. The Long Debate (May 1793)
19. "If I Perish, I Perish" (Late July 1793)
20. "So Will I Go In" (August 8-18, 1793)
21. Joy at Midnight (Early September 1793)
22. Days Slip By (October 1793)
23. "Of Just Men Made Perfect" (End of November 1793)
24. Under the Juniper (December 1-21, 1793)
25. Die Friedens Eiche (Spring 1794)
26. The Shepherd Looks Down (August 1794)

Afterword
Threads of Faith
Appendixes
Endnotes
Glossary
Sources
Credits
Customers who bought this product also bought
Customers who viewed this product bought