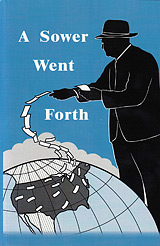 A Sower Went Forth
Soft cover
228 pages
0.582 lbs
Item #1-2400-3
The wonderful and profound plan of salvation dawns slowly on the dying man. To Ralph Palmer, the truth that he can really be saved from his awful sins is too wonderful to comprehend. But he finally believes what the faithful bishop at his bedside is telling him, and gladly he opens his heart to the claims of Christ on his life.
The young Ralph Palmer is miraculously restored to health, and from that time he is gripped with a burning zeal to reach the unsaved all around him. For a time, he grapples with the seeming unconcern among his fellow believers to tell all the world about Christ's great salvation. Then he and his faithful wife begin a work of their own—a work that will eventually reach hundreds of thousands with the Gospel.
This true story of Ralph Palmer's lifework should challenge each true believer to a deeper commitment to, and zeal for, God's service.
Contents

1. A Dying Man
2. Born Again
3. Newness of Life
4. "I Will Heal Their Backsliding"
5. "Friend, Will You Have a Gospel Paper?"
6. Warn the Wicked!
7. A Glow in the Dark
8. "Subject Unto the Higher Powers"
9. Is It Worthwhile?
10. Out Upon the Highways
11. A Word Fitly Spoken
12. "What Do You Do All Day?"
13. "I'm Going Home to My Mother"
14. "Is Not My Word... Like a Hammer?"
15. "Let the Redeemed of the Lord Say So"
Customers who bought this product also bought
Customers who viewed this product bought