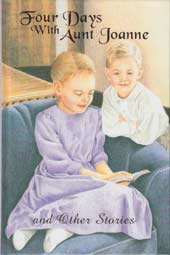 Four Days with Aunt Joanne - and Other Stories
Hard cover
346 pages
1.28 lbs
Item #1-2264
In this collection of stories about children, parents and children alike learn lessons about God and about life.
Clarence has the same disease his friend had who died, but Father and Mother help him to know that it is God who is in control of life and death.
David finds how much better truth is than trying to cover up wrong.
Elsie cannot sew or type like her big sisters, but she is just the right size for many other jobs.
Carolyn finds that a book found in the bushes is one that will fill her mind with poison.
Abbie learns that even when Mother goes out during church she needs to be good.
Lois finds that candy given to keep her from telling the truth does not "taste" very good.
Verna prays for Sister Janice.
Eldon discovers how special Mother is.
William begins to understand that if he wants to be a Samuel when he grows up, he had better listen and obey right now.
These children, and dozens of others, fill this collection of stories with true-to-life examples of boys and girls learning to please their parents, and appreciate God's ways. Parents will find many practical pointers for dealing with various situations they face with their children.
An ideal book when your child comes and says, "Please read me a story."
Contents

1. Four Days With Aunt Joanne
A Trip for Father and Mother
2. Four Days With Aunt Joanne
Rhonda Is a Helper
3. Four Days With Aunt Joanne
Jesus Helps Valerie
4. Four Days With Aunt Joanne
A Friend for Valerie
5. Four Days With Aunt Joanne
Father and Mother Come Home
6. Troubles in the Workshop
7. The Spill in the Shop
8. God Planned Our Family
9. Brave Like Daniel
10. Why Am I So Small?
11. Edward Prays for Roger
12. David's Questions
13. Ruth and the Bear Book
14. Was James Awake?
15. The Birthday Blackboard
16. The Book in the Bushes
17. Chicken Pox Lesson
18. The Wrong Things to Talk About
19. Tell Mother About It
20. Whose Business?
21. Micah's Conscience
22. Lois and the Bribe
23. Why Did She Cry?
24. No Salve for Samuel
25. What Will Tabitha Do?
26. A Home for Amy and Anthony
27. The Wrong Way to Give
28. The Biggest Number
29. A Good Example to Follow
30. The Borrowed Dollar
31. God's Wonderful Plan
32. God Made Mothers Special
33. Dorcas's Reward
34. She Isn't Our Mother
35. A Dollar to Disobey
36. At the Indian Museum
37. Sandra and Santa Claus
38. A Good Listener
39. Just the Right Size
Customers who bought this product also bought
Customers who viewed this product bought