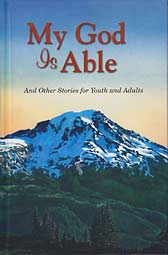 My God Is Able - and Other Stories for Youth and Adults
Hard cover
255 pages
0.88 lbs
Item #1-2262
My God Is Able contains thirty-two interesting stories. Youth and adults will enjoy these glimpses into the daily lives of many individuals.
Readers will meet the newly married young woman who did not want visitors, the girl who couldn't go to Bible school, the neighbor who prepared for disaster, the welder who refused to work on Sunday, the secretary with a letter promising bad luck, and many more.
These stories cover a wide variety of subjects, and each one brings out a Biblical truth in a fresh, readable way. Readers will be encouraged by these examples of God's enabling power in the life of the Christian.
Contents

1. My God Is Able
2. "Your Sister Is a Liar"
3. A Special Yardstick
4. Altogether Poisonous
5. All That Is Available
6. "But It Isn't Mine"
7. By Way of the Bridge
8. Lucy and the Footprints
9. A Good Place
10. Disaster Ahead
11. God and the Traffic Jam
12. Helping Out
13. Hospitality
14. Janice and the Preacher
15. "What Picture?"
16. Letters and Promises
17. The Right Place at the Right Time
18. Of Lessons in Stories
19. One Moment's Decision
20. Only Remembered
21. The Preschool Class
22. Not Enough Cake
23. Professor Johnson
24. "See You Later"
25. "You Must Forgive"
26. The Door That Opened
27. The Galaxy Market
28. A Great Awakening
29. The Whole Truth
30. There Is a Difference
31. Truck for Sale
32. Which God?
Customers who bought this product also bought
Customers who viewed this product bought