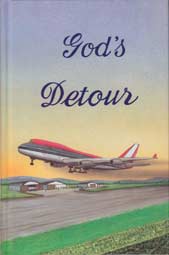 God's Detour
Hard cover
240 pages
0.98 lbs
Item #1-2247
The unexpected surprise that the Steiner children receive after the school picnic on the last day of school, delights them and affects their entire summer schedule. From then on everything revolves around the anticipated event until—but we will not tell you that part of the story now.
The summer flies by quickly, filled with all the activities that a family of six can pack into it. Work, play, joy, sadness—it all comes their way—but the goal ahead makes each event only a stepping stone.
The privilege of having loving Christian parents who interpret life for them in the light of God's Word, a Christian school, and a Biblical church as the center of their setting in which to grow up, makes this book truly Christian reading for junior and intermediate age young people.
This story does not have a surprise ending exactly, but it surely does not end as either the characters or the readers expect it to.
Contents

1. Another School Year Ends
2. Rain and Sunshine
3. A New Blessing
4. A Special Sunday
5. Weeds and Woes
6. The Hospital Visit
7. Just Little Things
8. A Better Way
9. Six Important Words
10. Follow Christ
11. The Call
12. Forever and Forever
13. In the Sweet By and By
14. A Special Day
15. School Bells Ring
16. Give Smiles
17. God Loves Me
18. Pride Goeth Before a Fall
19. Encouragement
20. More Blessings
21. A Better Idea
22. The Unfinished Gift
23. Special Happiness
24. Thankful Prayers
25. Another Scrapbook
26. A New Year
27. Sharing the News
28. The Little Things
29. Sewing and Sharing
30. God's Answer
31. Nevin's Sermon
32. Uncle David's Visit
33. "He Leadeth Me"
34. "Good-bye Illinois"
Customers who bought this product also bought
Customers who viewed this product bought