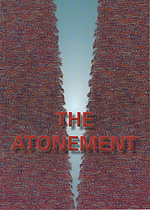 The Atonement
Soft cover
112 pages
0.238 lbs
Item #1-2201
[Book cover illustrates Mark 15:38, "And the veil of the temple was rent in twain from the top to the bottom."]
A brief description of God's unfolding plan for our salvation. Sinful man needs atonement to be reconciled to God; the Old Testament provision was Moses' Law. Then Jesus gave His life to seal the New Covenant, which is now fully able to reconcile men to God. The regenerating, renewing work of God in the obedient believer produces a new creature in Christ, who responds to God's will and expresses God's character in his life because he has the power to be a holy person.
"Alas! and did my Saviour bleed?
And did my Sov'reign die?
Would He devote that sacred head
For such a worm as I?
Was it for crimes that I had done,
He groaned upon the tree?
Amazing pity! grace unknown!
And love beyond degree!
Well might the sun in darkness hide,
And shut his glories in,
When God's own Son was crucified
For man, the creature's sin.
Thus might I hide my blushing face
While His dear cross appears;
Dissolve my heart in thankfulness,
And melt mine eyes to tears.
But drops of grief can ne'er repay
The debt of love I owe;
Here, Lord, I give myself away;
'Tis all that I can do."
—Isaac Watts
Contents

Foreword
A Brief Explanation of the Word Atonement
1. The Need for Atonement
2. The First Steps
3. Moses' Law and Atonement
4. Glimpses of the Atonement in the Psalms and the Prophets
5. The Fullness of Time
6. The Ministry of Christ
7. Steps to Calvary
8. Calvary
9. Beyond Calvary
10. Reconciliation Offered
11. Reconciliation Received
Customers who bought this product also bought
Customers who viewed this product bought