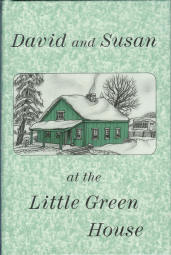 David and Susan at the Little Green House
Hard cover
170 pages
0.78 lbs
Item #1-2185-3
Also available in the David and Susan set, and in Spanish.
When Father is seriously ill and Mother must go with him to a distant hospital, David and Susan go to the Little Green House to stay with Grandfather and Grandmother. Although being at the Little Green House is enjoyable, they miss Father and Mother very much.
Grandfather's stories at bedtime help evenings to be less lonely for David and Susan. Grandfather's stories are true ones about when he was a little boy. He tells about the big snow, stealing apples, being lost in the woods, the "dump box," the rats and the corn, trouble with pigeon eggs, and many more.
David and Susan at the Little Green House is written about little children and is for little children. Young readers will find it written simply and easy to read, while those still too young to read will love it as a "read to me" book.
There is a strong emphasis on living by the Word of God in the daily experiences of life that are common to every child. It is the aim of the writer (who is a mother and grandmother) to lovingly nourish little children and give them guidance by the Word of God in order to mold in them strong Christian character and conviction so that when the are older they "will not depart from it."
Contents

1. At Grandfather's House
2. The Big Brown Hound
3. The Big Snow
4. Stolen Apples
5. The Telephone Rings
6. Why Grandfather Was Poor
7. Boy Lost
8. The Big Rooster
9. A Preacher's Son
10. Washday for Betty
11. The Dump Box
12. Grandfather's Pig Story
13. A Walk With Grandfather
14. Rejoice Always
15. Mother's Message
16. All Together Again
17. Pigeon Eggs
18. Kitty in the Tree
19. David's Birthday Surprise
20. Bowls of Cold Soup
21. Under the Bush
22. Summer Days
23. The Baby Bird
24. Grandfather's Airplane
25. Dolly Trouble
26. Home Again
Customers who bought this product also bought
Customers who viewed this product bought