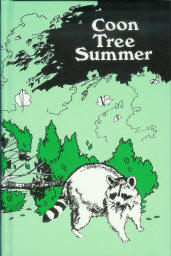 Coon Tree Summer - A Merry Brook Story
Hard cover
328 pages
1.08 lbs
Item #1-2180
First book of the Merry Brook Farm set.
Eight lively children would provide excitement enough for any family! But this summer with the Brooke family at Merry Brook Farm is an especially interesting one as they face a variety of lessons, challenges, adventures, and surprises.
Why are there two pairs of shoes beside "playhouse rock" at the brook? What gets Laurel, who is normally thoughtful and respectful, into trouble at school? What animal is behind the glowing eyes in the hollow beech tree? What happens when Daisy decides to fix her hair with yellow ribbons, or when Paul stones the pigs to make them squeal?
Live with this happy Christian family and learn with them as they make the Bible practical in everyday living. Enjoy with them the satisfaction and blessings that results from obedience to God's way.
This story continues in Ice Slide Winter.
Contents

1. Spring
2. A Happy Surprise
3. The Long Saturday
4. "So We Are Rich"
5. School Troubles and Farm Babies
6. Birthday Plans
7. Laurel's Bad Day
8. Lost Shoes
9. Hunting for Candy
10. "Father Prayed," Said Daisy
11. School Is Out
12. Secrets and Worms
13. "Today We Freeze Peas"
14. The Hollow Beech
15. The Tent Surprise
16. Sunday Guests
17. Wading in Merry Brook
18. Beans, Beans, Beans
19. Under the Willow
20. Buttons and a Merry Heart
21. No Room for Clutter
22. Ridge-top Picnic
23. Yellow Ribbons
24. The Hard Storm
25. A Summer Evening
Customers who bought this product also bought
Customers who viewed this product bought