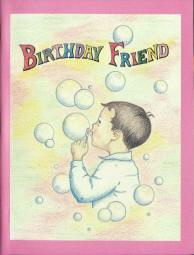 LJB - Birthday Friend
Soft cover
32 pages
0.17 lbs
Item #1-2136
Going to visit Widow Eva on her birthday. Written in poetic form.
"Dolly, dear can you guess?
Oh, can you guess who
Has a birthday today,
Or shall I tell you?

"It's Widow Eva's birthday.
Yes, Dolly, that's right.
And we're going to visit
At her house tonight.

"And when we go, Dolly,
We're taking a treat.
I'll whisper a secret—
It's purple and sweet.

...
Customers who bought this product also bought
Customers who viewed this product bought