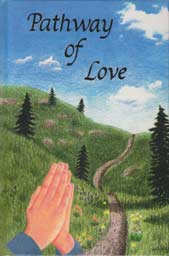 Pathway of Love
Hard cover
342 pages
1.28 lbs
Item #1-2121
Also available in Spanish.
---
A collection of over sixty stories on a wide variety of subjects holding special interest to young people.
Relationships—between boys, between girls, between boys and girls, between children and parents, between siblings—are all included in these accounts.
These stories include experiences of sowing and reaping, of selfishness and unselfishness, of honesty and dishonesty, of taking counsel and rejecting it, of willfulness and submission, of pride and humility, as well as other subjects of common interest to youth.
A number of stories on courtship are included, as well as some on family life. Some reveal the struggles of young people who are seeking the Lord but must stand alone with no encouragement from their families and friends.
These stories, the majority of which are true, are written in an enjoyable and readable style. Some are long, and some are short. All are interesting and profitable reading and will make a nice addition to the libraries of Christian young people.
Contents

Love Gives and Gives
Pathway of Love
Adoring Worship
Lily and the Bible Way
"This One Thing I Do"
True Fulfillment
Eldon's Battle
A Christian Example
A Love That Lasts—Family One
A Love That Lasts—Family Two
Inspired
A Chance to Grow
"Cast Thy Bread... Thou Shalt Find"
"In Deed and in Truth"
A Tribute to Godly Grandparents
"I'd Rather Not Go Along"
She That Thinketh She Standeth
The Things of Others
Eternal Fidelity
Treasures That Last
To Look On and Remember
Are You Grieved for the Affliction of Joseph?
"I'll Go West"
A Tribute to Godly Parents
Abounding to Every Good Work
I'd Rather Be
The Best Relaxation
Too Little to Live On?
Jessica's Unpardonable Sin
Riches
The Inner Circle
Ready to Grow?
Rest Through Prayer
Because He Is Distressed
Springing Water
Without Meaning
All You Need Is Jesus
A Country Living Room
Too Tired?
Courtesy Cues
My Father Loveth Zion
Thelma Finds the Way
Keys to My Heart
Too Many Toys
The Bruised Petal
"O Grave, Where Is Thy Victory?"
Joy in Service
The Important Thing
Castles of Sand
No Welcome
An Open Way
His One Desire
What Joseph Did Not Lose
In the Years to Come
"To Communicate Forget Not"
Let Me Die to Self
Must I Forgive?
Blessings in Disguise
"He Shall Not Die"
Making the First Move
"Unto the Pure"
The Sacrifice of Love
Trust On
Twenty Years to Hear
"In Honour Preferring One Another"
Because He Loves Me
Customers who bought this product also bought
Customers who viewed this product bought