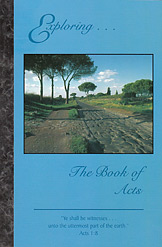 Exploring... The Book of Acts
Paper cover
287 pages
0.748 lbs
Item #1-21205
From the "Exploring..." Bible Study Series.
"But ye shall receive power, ...and ye shall be witnesses unto me" (Acts 1:8). This verse includes both a promise and a command. The Book of Acts records the fulfillment of this promise and tells the story of what happened when 120 Spirit-filled believers focused their energies on carrying out the Great Commission.
The Book of Acts can be misunderstood. Various false concepts can be traced back to misinterpretations of this book. Exploring the Book of Acts promotes a Biblical and proper concept of God's purpose for the church.
Table of Contents

Part 1: Introducing the Book of Acts
Part 2: The Birth of the Church (Acts 1:1-5:42)
Part 3: Persecution Leads to Expansion (Acts 6:1-9:31)
Part 4: The Gentiles Receive the Gospel (Acts 9:32-12:25)
Part 5: Paul's First Missionary Journey (Acts 13:1-14:28)
Part 6: The Council at Jerusalem (Acts 15:1-35)
Part 7: Paul's Second Missionary Journey (Acts 15:36-18:23)
Part 8: Paul's Third Missionary Journey (Acts 18:24-21:17)
Part 9: Paul's Arrest in Jerusalem and Arrival at Rome (Acts 21:18-28:31)
Chronology of Acts
Suggested Answers to Study Questions
Customers who bought this product also bought
Customers who viewed this product bought