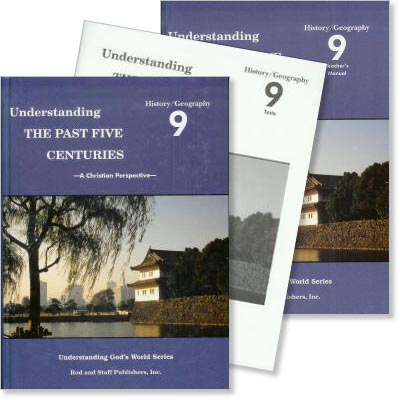 Grade 9 History/Geography "Understanding the Past Five Centuries" Set
This course covers the last five centuries of world history from a Biblical perspective. Students will learn about different types of governments and about the effects of economics and trade. Influential worldly religions, philosophies, and economic systems are explained.
The text is divided into 28 chapters with study exercises, chapter reviews, and some map work. Many pictures, maps, and illustrations—some in color and some in black and white—are scattered throughout the book.
The teacher's manual contains a reduced copy of each pupil's page, as well as copies of the tests with the answers filled in. Surrounding the pupil's pages are the answer key, main points, Christian perspectives, and other helpful information.
A separate test booklet contains tests to follow every two chapters, and a final test.
Supplementary items (not included):
Table of Contents

Introduction for the Student
Chapter 1: From Christ to the Crusades
Chapter 2: Renaissance and Reformation: 1300-1600
Chapter 3: Wars Over Religion: Mid-1500s to Mid-1600s
Chapter 4: Struggles in England: 1603-1689
Chapter 5: The Age of Louis XIV: 1638-1715
Chapter 6: Empires in Central and Eastern Europe: 1600s and 1700s
Chapter 7: Asia Before 1800
Chapter 8: Africa Before 1800
Chapter 9: Rival Empires in America
Chapter 10: The Age of Reason: 1600s and 1700s
Chapter 11: Those Who Held Faith Above Reason: 1600s and 1700s
Chapter 12: The Industrial Revolution: 1700s and Early 1800s
Chapter 13: The French Revolution and Napoleon's Wars: 1789-1815
Chapter 14: Germany and Italy Become Modern Nations: 1800s
Chapter 15: Imperialism in the 1800s
Chapter 16: Summary of Social and Scientific Changes Before 1900
Chapter 17: New Stirrings in Eastern Asia: About 1900
Chapter 18: World War I: 1914-1918
Chapter 19: Peace Efforts After World War I
Chapter 20: The Middle East Before 1940
Chapter 21: Communism and Fascism
Chapter 22: World War II: 1939-1945
Chapter 23: Changes After World War II: 1945-1960s
Chapter 24: Cold War, Hot War
Chapter 25: The Third World
Chapter 26: The Middle East Since the 1940s
Chapter 27: Prominent Issues in Modern History
Chapter 28: The Christian—in the World but Not of the World
Final Review
Map Section
Glossary
World Religions Chart
Map and Graph Index
General Index
Photograph Credits
Chart, Graph, and Map Credits
Customers who bought this product also bought
Customers who viewed this product bought