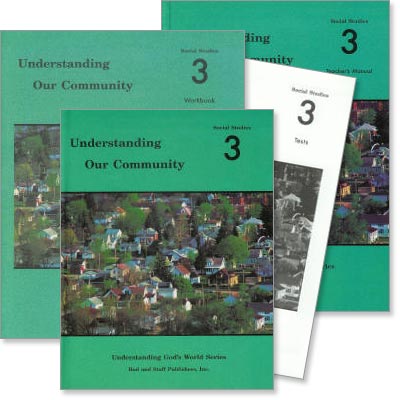 Grade 3 Social Studies "Understanding Our Community" Set
Understanding God's World Series
This hardcover textbook of 31 lessons has been revised and incorporated into the Understanding God's World Series. The revision has simplified the scope of each lesson. Some of the social and civics content has been replaced with map-skills lessons. Six review lessons and six chapter tests are included. Most of the exercises are in the workbook, but a few are in the textbook.
The Teacher's Manual contains a reduced copy of the textbook and the workbook, with answers filled in. Surrounding the pupil pages are lesson concepts and teaching aids. Most exercises have answers that are easy to grade.
This course gives the student an introduction to the community and shows how various organizations and public services operate. The goal is to foster an appreciation for the services offered and to help the student to act responsibly. Most lessons are presented in story form so that the student learns through the eyes of the main character as he observes his community. The pupil's book has color pictures where color is important.
Contents

In Appreciation
Illustration Credits
Introduction

Chapter 1: What Is My Place in the Community?

1. This Is Simon's Family
2. Farms in the Community
3. God's People in the Community
4. What Is a Map?
5. Chapter 1 Review

Chapter 2: How Do We Get the Things We Need?

6. The Gift of Food
7. Building Materials and Hardware
8. Feed for the Farm
9. How Many Directions Are There?
10. Chapter 2 Review

Chapter 3: How Do We Travel?

11. Roads for Our Use
12. Service for Our Car
13. Other Ways to Travel
14. Can You Read a Road Map?
15. Chapter 3 Review

Chapter 4: Who Helps Us Care for Our Bodies?

16. Eyes and Teeth—Gifts From God
17. When We Get Sick or Hurt
18. At the End of Life
19. How Does a Map Show Cities?
20. Chapter 4 Review

Chapter 5: What Services Come to Our Home?

21. Coming Through the Wires
22. Helpers in Emergencies
23. The Red Flag Is Up
24. What Do Maps Tell About the Land?
25. Chapter 5 Review

Chapter 6: What Other Services Help the Community?

26. The Bank Serving the Community
27. "Officer, We Need Help"
28. Where Does All the Garbage Go?
29. What Are All Those Places?
30. Chapter 6 Review

Final Lesson: How Should I Respond to My Community?
Customers who bought this product also bought
Customers who viewed this product bought