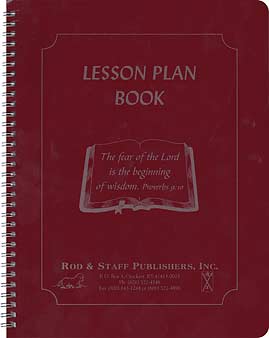 Lesson Plan Book
Soft (wire-bound) cover
96 pages
0.7 lbs
Item #1-19081
Also available as part of the Combination Planner & Record Book.
---
Size: 8.5"W x 11"H; wire-bound, flexible cover.
40 weeks. Eighty-two pages for your daily plans with 5 blocks (periods) per day and 7 lines per block. Each 2-page spread has columns for 5 labeled days (Monday through Friday) plus and extra column for notes.
Features in this book include:
Two Temples (poem)
Classroom Rules and Procedures
Birthday Calendar
Student Roster
Seating Chart
Calendar
Notes
Weekly Lesson Planner
Notes
While this is designed for a classroom setting, many home school families find it very adaptable for their use with several children. It gives a permanent record of school activities.
Customers who bought this product also bought
Customers who viewed this product bought