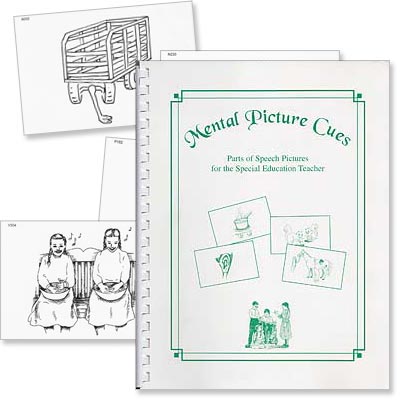 This resource is designed to aid teachers (especially teachers of special needs children) in their search for suitable pictures to develop visual materials for their program. The goal is to have pictures that are simple and uncluttered, yet attractive to children. The 458 pictures are on 4 x 6 index cards of thin cardstock for convenient filing. The reference guide provides indexes, suggestions for use, and a smaller copy of all the pictures. This copy makes it convenient to quickly page through in your search for pictures in the card file. It can also be opened flat if you desire to copy the pictures from the reference guide for other uses.
The reference guide is set up in four main parts corresponding to the main parts of speech: adjectives/adverbs, nouns, prepositions, and verbs. Similar pictures are grouped within each section to make it easier to find certain types of pictures, such as pictures of animals within the noun section.
The index is provided to make it easy to find pictures to complement your present curriculum or to make stand-alone activities and games to aid in teaching word recognition, language skills, cognitive skills, etc. Each section has an index in the same order as the pictures, so the relationships and comparisons are easily recognized. The noun and verb sections also have a separate alphabetical listing if you are looking for a certain representation instead of a relationship/comparison. The prepositions are already arranged in alphabetical order.
All pictures are without labels on the picture so as to not give hints to the student for certain types of activities. The codes used in the index are placed at the top of the corresponding pictures. The letter at the beginning of the code tells in which section the picture is found. As the alphabetical lists are cross-referenced to other sections, you will find in the index of the noun section that "dog" is listed as AO21, A261, A262, PO82, and YO27. This means there are three dogs represented in the adverb/adjective section, and one each in the preposition and verb sections.
We want this resource to meet your needs. If you have a suggestion that would add value to this work, you may send it to the publisher, and we will consider it for future editions.
Contents

Pictures

Adjectives/Adverbs (96 pictures)
Nouns (235 pictures)
Prepositions (51 pictures)
Verbs (76 pictures)
Customers who bought this product also bought
Customers who viewed this product bought