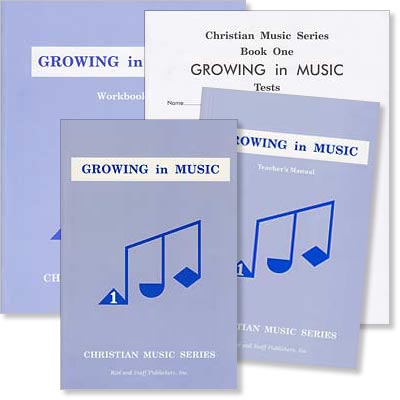 Grade 4 or 5 (Level 1) Music "Growing in Music" Set
This textbook can be used for students who have had no previous music instruction. Sound and tone properties, good singing habits, parts of the staff, the major diatonic scale, notes and rests, and rhythm are taught. Sight-reading exercises in the back of the book help students to learn the scale and simple rhythm patterns. A sections of rounds and two-part songs is provided to help the student in harmonizing parts.
The workbook is divided into 21 lessons, which combines exercises to help rivet the concepts taught in the textbook. A test booklet and flash cards are also available.
Even a teacher who has never taught music before can easily follow the practical direction found in the teacher's manual. How to teach the lessons and conduct the singing periods are clearly explained. Various drills and quizzes are included, as well as the answer keys for the study questions, workbook, and the test booklet. Suggested songs are listed, which may be found in Silver Gems in Song.
Supplementary items (not included):
Table of Contents

How to Use the Teacher's Manual

Chapter One: Introduction to Music

1. Musical and Unmusical Sounds
2. Tone Properties: Length and Pitch
3. Tone Properties: Power and Quality

Chapter Two: Learning to Sing Correctly

4. The Voice
5. Good Singing Habits
6. Review of Chapters One and Two

Chapter Three: The Staff

7. Lines and Spaces of the Staff
8. Pitches on the Staff
9. The Grand Staff
10. Steps, Half-Steps, and Ledger Lines; [Recognition of] Key Signature and Time Signature
11. Four-part Music, Bars, and Scores
12. Review of Chapter Three

Chapter Four: The Major Diatonic Scale

13. Introduction to the Scale
14. Shaped Notes
15. Home Tone, Octaves, and Intervals
16. Placing the Scale on the Staff
17. Review of Chapter Four
18. Review of Chapters One to Four

Chapter Five: Notes and Rests

19. Introduction to Notes
20. Relating Note Values
21. Adding and Dividing Notes
22. Rests
23. General Review
24. Review of Chapter Five

Chapter Six: Rhythm

25. Rhythm Patterns
26. Pulses and Pulse Notes
27. The Time Signature
28. Authors and Composers
29. Review of Chapter Six
30. Book-length Review

Answer Section

Study Questions Answer Key
Workbook Answer Key
Test Booklet Answer Key
Customers who bought this product also bought
Customers who viewed this product bought