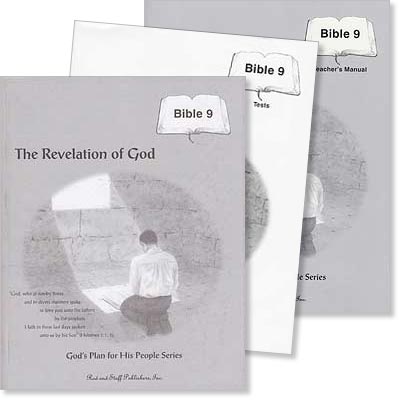 Grade 9 Bible "The Revelation of God" Set
Grade 9 is the first book in the series God's Plan for His People. It discusses who God is, and how He revealed Himself to man before the Law, through the Law, through His Son, through the apostles, and through the church. The course aims to inspire the student to understand the difference between knowing about God and knowing God by studying the Scripture passages that reveal the nature, character, and work of God.
The Bible is the pupil's textbook. The workbook guides the pupil through the study of the Bible as he looks up Bible verses and then answers the questions. A variety of questions types includes multiple choice and filling in the blanks. Bible word studies, practice with proper use of Bible study helps, and Bible lands geography studies are also included.
The pupil's book has 30 lessons divided into 6 chapters, a review for each chapter, and a final review.
A test for each chapter and a final test are in a separate booklet with tear-out sheets.
The teacher's manual has a reduced copy of the pupil's workbook with the answers filled in. Oral reviews, main points, and others notes are in the margins.
Table of Contents

Chapter One - Who Is God?

1. The Attributes of God (Part 1)
2. The Attributes of God (Part 2)
3. The Work of God
4. God - the Three in One
5. What is God's Name?
Chapter One Review

Chapter Two - God's Revelation Before the Law

6. The Effect of Sin on Revelation
7. God Makes Promises to Man
8. God Requires Obedience
9. Two Men Who Heard God Speak
10. Sinful Men Oppose God's Revelation
Chapter Two Review

Chapter Three - God's Revelation Through the Law

11. God Introduces His Law
12. The Ten Commandments
13. Laws About Worshiping God
14. Laws About Personal Purity
15. Laws About Civil Life
Chapter Three Review

Chapter Four - God's Revelation Through His Son

16. The Seed of David
17. The God Man
18. "Never Man Spake Like This Man"
19. The Perfect Example
20. Our Perfect Sacrifice
Chapter Four Review

Chapter Five - God's Revelation Through the Apostles

21. Jesus Commissions the Apostles
22. A New Era Begins
23. Opening the Door to the Gentiles
24. Through Signs and Wonders
25. The Work of the Apostles
Chapter Five Review

Chapter Six - God's Revelation Through the Church

26. What is the Church?
27. The Responsibility of the Church
28. The Leadership of the Church
29. The Ordinances of the Church
30. The Triumph of the Church
Chapter Six Review
Customers who bought this product also bought
Customers who viewed this product bought