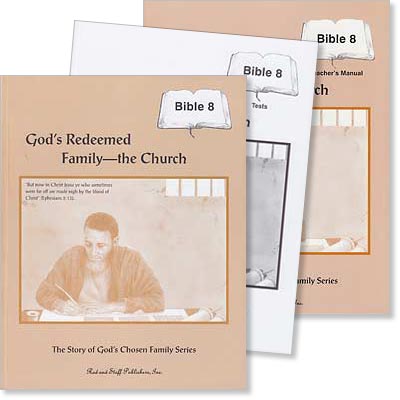 Grade 8 Bible "God's Redeemed Family—The Church" Set
Grade 8 covers the New Testament from Romans to Revelation. Outlines are given for each of these books. This course emphasizes the value and necessity of the church and how God's people are to serve Him and relate to others. Solutions to problems are outlined, and edification and encouragement are presented. Subjective questions require students to think carefully.
The Bible is the pupil's textbook. The workbook guides the pupil through the study of the Bible as he looks up verses and then answers the questions. A variety of question types includes multiple choice and filling in the blanks. Included also are Bible word studies and sections for studying the geography and history related to Bible events.
The pupil's book has 30 lessons divided into 6 chapters, a review for each chapter, and a final review. A test for each chapter and a final test are in a separate booklet with tear-out sheets.
The teacher's manual has a reduced copy of the pupil's workbook with the answers filled in. Oral reviews, main points, and other notes are in the margins.
Table of Contents

[map]
Teacher's Introduction

Chapter One - A New Way of Life for God's People

Outline of Romans
1. Jesus Introduces The New Way
2. The New Way is Threatened
3. Paul teaches the New Way
4. A New Relationship for Jews and Gentiles
5. A New Perspective for God's People
Chapter One Review

Chapter Two - Problems Within God's New Family

Outlines of 1 and 2 Corinthians
6. Carnality Causes Problems
7. Disorder Causes Problems
8. Misused Christian Liberty Causes Problems
9. The Road to Restoration
10. Attitudes That Solve Problems
Chapter Two Review

Chapter Three - Epistles to Edify God's People

Outlines of Galatians and Ephesians
Outlines of Philippians and Colossians
11. God's Prisoner
12. On Other Gospel
13. Living for Jesus
14. Be Faithful
15. Christ—Our All in All
Chapter Three Review

Chapter Four - Personal Epistles to God's People

Outlines of Philemon and 1 and 2 John
Outlines of 3 John and 1 Timothy
Outlines of 2 Timothy and Titus
16. An Appeal for Forgiveness
17. Christian Fellowship
18. Instructions for a Young Leader
19. A Farewell Message
20. Practical Guidance for Church Leaders
Chapter Four Review

Chapter Five - General Epistles to God's People

Outline of Hebrews
Outlines of James and 1 Peter
Outlines of 2 Peter and Jude
21. Jesus—a Better High Priest
22. A Better Covenant
23. A Faith That Works
24. Suffering Saints
25. Warnings Against Apostasy
Chapter Five Review

Chapter Six - God's People Face the Future

Outlines of 1 and 2 Thessalonians
Outline of Revelation
26. The Christian and the Lord's Return
27. Waiting for the Lord's Return
28. The Message to the Seven Churches
29. The Ongoing Struggle Between Good and Evil
30. The Final Triumph of God's People
Chapter Six Review
Customers who bought this product also bought
Customers who viewed this product bought