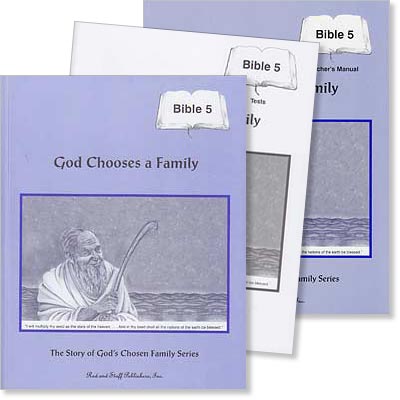 Grade 5 Bible "God Chooses a Family" Set
30 lessons. 6 chapters. Chapter reviews and final tests are included.
This is the first book in the series "The Story of God's Chosen Family." This grade level covers Old Testament history from Creation to the prophet Samuel. Children are encouraged to follow the example of faithful characters, such as Enoch, Noah, and Abraham. They observe God's mercy at work, even with those who disobeyed God, but they are reminded that God does not overlook sin.
The Bible is the pupil's textbook. The workbook guides the pupil through the study of the Bible as he looks up verses and answers the questions. A variety of question types include multiple choice and filling in blanks. There are also vocabulary studies and other educational exercises on subjects like family lines, slavery in Bible times, and the Nazarite vow. One lesson in each chapter diverts from the chronological study to additional aspects of the Bible, such as observing Bible geography, dated Bible events, and using Bible study helps.
The pupil's book has 30 lessons divided into 6 chapters, a review for each chapter, and a final review. A test for each chapter and a final test are in a separate booklet with tear-out sheets.
The teacher's manual, bound with a durable cover, has a reduced copy of the pupil's workbook with the answers filled in. Oral reviews, main points, suggested memory passages, and other notes to the teacher are in the margins.
Supplementary items (not included):
Table of Contents

Time Line
Teacher's Introduction

Chapter One: The Dawn of Human History

1. Introduction to the Bible
2. In the Beginning
3. Man Falls Away From God
4. God Destroys the Earth
5. God Restores the Earth
Chapter One Review

Chapter Two: The Patriarchs

6. Dating Bible Events
7. Abraham—Father of the Faithful
8. Abraham's Family
9. Isaac Serves God
10. Jacob Learns to Walk With God
Chapter Two Review

Chapter Three: God's Chosen Family in Egypt

11. Geography of Bible Lands
12. Joseph Endures Trials
13. Joseph Returns Good for Evil
14. God's Chosen People Suffer Bondage
15. God Delivers His Chosen People
Chapter Three Review

Chapter Four: Israel in the Wilderness

16. God Gives His Word to Man
17. God Leads His Chosen People
18. God Tells Man How to Live
19. The Israelites Learn to Worship God
20. The Israelites' Faith Is Challenged
Chapter Four Review

Chapter Five: Israel Conquers Canaan

21. Geography of Canaan
22. Israel Enters Canaan
23. Israel and the Buried Treasure
24. Israel and the Gibeonites
25. Joshua's Last Days
Chapter Five Review

Chapter Six: Israel in the Days of the Judges

26. Divisions of the Old Testament
27. Israel's Great Mistake
28. God Sends Deliverers
29. Judges Who Misjudged
30. Samuel Judges Israel
Chapter Six Review

Final Review: Reviewing What You Have Learned
Customers who bought this product also bought
Customers who viewed this product bought