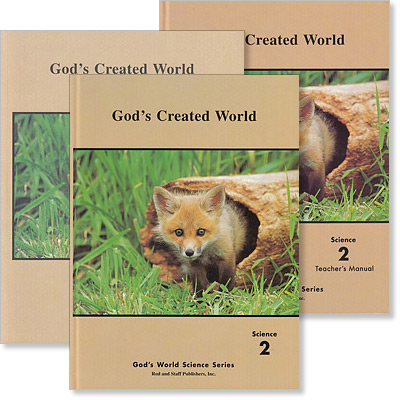 Grade 2 Science "God's Created World" Set [2nd Ed]
These materials are not compatible with the previous Grade 2 Science course Patterns of Nature (1982).
This science course provides supplemental study in Grade 2, and is designed to be an interesting diversion from the main subjects of reading, writing, and math. Make sure the way you integrate this course whets the child's appetite for science and does not become an overwhelming assignment. Students who are struggling with the main courses will benefit from merely reading the science lessons without doing any exercises. Adjust the workload of exercises to the pupil's abilities.
The 188-page pupil's textbook contains many interesting facts and is loaded with full-color photos, paintings, and illustrations. The lessons can be rearranged to be studied at the time of year you prefer. Keep in mind, however, that the lessons move from simpler to more complex ones. So the best way to match the lessons to the student's capabilities is to study them in the order they are presented.
The accompanying 157-page workbook has answer blanks for the student to fill in. For many students, only part of the exercises will need to be assigned. Those who need more to occupy their time can do the whole lesson, including the Extra Activities. Reviews of previous lessons are provided for teachers who wish to use them. There are no tests for this grade of science. Throughout this course, the student will make (at the teacher's discretion) projects and drawings. A number of them could also be used for art classes.
The 341-page teacher's manual has a reduced copy of the pupil's textbook and workbook. Points to teach are listed beside each pupil's page, along with ideas for class discussion, extra information, and additional activities.
Contents

Introduction
1. Spring
2. Summer
3. Fall
4. Winter
5. The Parts of a Plant
6. Seeds
7. Plants in Vegetable Gardens
8. Plants in Flower Gardens
9. The Parts of a Tree
10. God's Useful Trees
11. The Life of a Bird
12. The Parts of a Bird
13. Birds' Nests
14. What Birds Eat
15. What Birds Do in the Winter
16. Animals That Help Us
17. Wild Animals Around Us
18. Animals at the Zoo
19. Ants
20. Honeybees
21. Spiders
22. The Life of a Frog
23. Reptiles
24. The Sun
25. The Moon
26. The Stars
27. The Weather
28. Water
29. The Soil
30. Rocks
Illustration credits

Workbook Answer Key

Tear-Out Sheets

A. Winter Homes
B. Winter Homes
C. Garden Plants
D. Garden Plants
E. Plants in Flower Gardens
F. Draw Chicks
G. Bird Mobile
H. What Birds Do in Winter
I. Make a Bird Feeder
J. Make a Raccoon
K. Make a Kangaroo
L. Make a Kangaroo
Customers who bought this product also bought
Customers who viewed this product bought