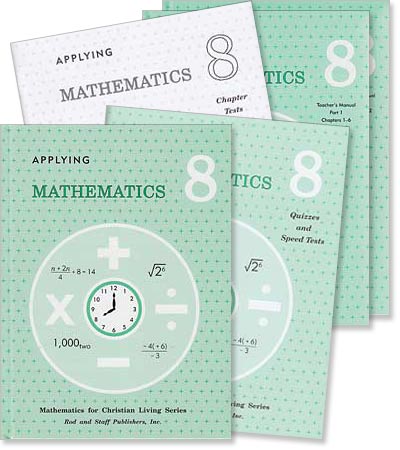 Grade 8 Math "Applying Mathematics" Set
This hardcover textbook has 170 lessons that review and extend skills taught in previous levels. Review in each lesson keeps previous skills current. The text and exercises abound in real-life and Bible applications. New concepts include the following areas.
Percents—Part-year interest, sales and property tax.
Measures—Conversion between Bible, metric, and English systems.
Graphs—Double-line graphs, rectangle graphs.
Geometry—Pythagorean rule, surface and volume of sphere.
Algebra—Polynomials, computation with signed numbers and exponents.
Finances—Compound interest formula and tables, writing checks, and maintaining and reconciling the account balance.
Numbers—Extracting square roots, base twelve and base two numeration, scientific notation, and statistics.
Quizzes and speed tests are provided in a separate booklet with tear-out sheets.
Chapter tests are also in a separate booklet.
The teacher's manual comes in two volumes. Each lesson has full-size pupil's pages, with answers filled in. Extra pages guided the teacher in lesson preparation and include answer keys for quizzes, speed tests, and chapter tests. In addition to these regular features, the Grade 8 teacher's manuals provide a solution key for reading problems and the more difficult exercises.
Contents of the Teacher's Manuals

Materials for This Course

To The Teacher

Basic Philosophy
Plan of the Course
Pupil's Book
Teacher's Manual
General Class Procedure
Quizzes and Speed Tests
Chapter Tests
Evaluating Test Results
Disposition of the Corrected Tests
Grading

Chapter 1: Basic Mathematical Operations

1. Working With Large Numbers
2. Understanding Place Value and Rounding
3. Understanding Roman Numerals
4. Using the Commutative and Associative Laws
5. Adding Mentally
6. Reviewing Subtraction
7. Subtracting Mentally
8. Reviewing Multiplication
9. Multiplying Mentally
10. Using the Distributive Law
11. Reviewing Division
12. Dividing Mentally, Part 1
13. Dividing Mentally, Part 2
14. Reading Problems: Choosing the Correct Operation
15. Chapter 1 Review
16. Chapter 1 Test (in test booklet)

Chapter 2: English and Metric Measures

17. English Units of Linear Measure and Weight
18. English Units of Capacity
19. English Units of Area
20. Units of Time
21. Metric Units of Linear Measure
22. Metric Units of Weight
23. Metric Units of Capacity
24. Metric Units of Area
25. Adding and Subtracting Compound Measures
26. Multiplying and Dividing Compound Measures
27. Converting Between English and Metric Measures
28. Converting Between Fahrenheit and Celsius Temperatures
29. Distance, Rate, and Time
30. Understanding Bible Measures
31. Reading Problems: Choosing the Necessary Facts
32. Chapter 2 Review
33. Chapter 2 Test (in test booklet)

Chapter 3: Factoring and Fractions

34. Finding Prime Factors
35. Finding Greatest Common Factors and Lowest Common Multiples
36. Using Common Fractions To Express Parts
37. Adding and Subtracting Common Fractions
38. Multiplying Fractions
39. Dividing Fractions, Part 1
40. Dividing Fractions, Part 2
41. Finding a Number When a Fractional Part of It is Known
42. Mental Division of Proper Fractions
43. Reading Problems Containing Fractions
44. Reading Problems: Deciding What Information is Missing
45. Chapter 3 Review
46. Chapter 3 Test (in test booklet)

Chapter 4: Decimals, Ratios, and Proportions

47. Using Decimals to Express Fractional Parts
48. Decimals in Multiplication
49. Decimals in Division
50. Rounding Decimals and Expressing Fractions as Decimals
51. Multiplying by the Simpler Method
52. Ratios: Tools of Comparison
53. Direct Proportions
54. Inverse Proportions
55. Reading Problems: Using Direct and Inverse Proportions
56. Applying Direct Proportions to Maps
57. Applying Direct Proportions to Scale Drawings
58. Chapter 4 Review
59. Chapter 4 Test (in test booklet)

Chapter 5: Mastering Percents

60. Expressing Rates as Percents
61. Finding Percentages
62. Rates Greater Than 100% and Less Than 1%
63. Calculating Increase and Decrease (Method 1)
64. Calculating Increase and Decrease (Method 2)
65. Finding What Percent One Number Is of Another
66. Finding the Percent of Increase or Decrease
67. Calculating the Base
68. Working With Commission
69. Solving Percent Problems Mentally
70. Reading Problems:Using Sketches
71. Chapter 5 Review
72. Chapter 5 Test (in test booklet)

Chapter 6: Statistics and Graphs

73. The Arithmetic Mean
74. The Median and the Mode
75. The Histogram
76. The Picture Graph
77. The Bar Graph
78. The Line Graph
79. The Circle Graph
80. The Rectangle Graph
81. Chapter 6 Review
82. Chapter 6 Test (in test booklet)
83. Semester 1 Review
84. Semester 1 Test (in test booklet)

Quizzes and Speed Tests
Chapter Tests 1 - 6
Index
Symbols
Formulas
Tables of Measure
Chapter 7: Lines and Planes in Geometry

85. Geometric Terms
86. Working With Angles
87. Classifying Triangles
88. Constructing Triangles
89. Constructing Geometric Figures
90. Perimeters of Polygons
91. Circles and Circumferences
92. Areas of Squares and Rectangles
93. Areas of Parallelograms and Triangles
94. Areas of Trapezoids
95. Areas of Circles
96. Areas of Compound Figures
97. Reading Problems: Solving Multistep Problems
98. Chapter 7 Review
99. Chapter 7 Test (in test booklet)

Chapter 8: Geometric Solids and the Pythagorean Rule

100. Geometric Solids and Surface Area of Cubes
101. Surface Area of Rectangular Solids.
102. Surface Area of Cylinders
103. Surface Area of Square Pyramids
104. Surface Area of Spheres
105. Volume of Rectangular Solids and Cubes
106. Volume of Cylinders and Cones
107. Volume of Square Pyramids
108. Volume of Spheres
109. Understanding Square Roots
110. Extracting Square Roots
111. Extracting More Difficult Square Roots
112. Understanding the Pythagorean Rule
113. Applying the Pythagorean Rule
114. Reading Problems: Using Parallel Problems
115. Chapter 8 Review
116. Chapter 8 Test (in test booklet)

Chapter 9: Mathematics and Finances

117. Checking Accounts: Using Deposit Tickets
118. Checking Accounts: Writing Checks
119. Checking Accounts: Maintaining Account Balances
120. Checking Accounts: Reconciling the Account
121. Savings Accounts and Simple Interest
122. Calculating Past-year Interest
123. Calculating Compound Interest
124. Using the Compound Interest Formula
125. Calculating Sales Tax and Property Tax
126. Calculating Profit
127. Calculating Profit as a Percent of Sales
128. Reading Problems Relating to Finances
129. Mental Math: The Four Basic Operations
130. Chapter 9 Review
131. Chapter 9 Test (in test booklet)

Chapter 10: Introduction to Algebra

132. Identifying Algebraic Expressions
133. Order of Operations
134. Evaluating Algebraic Expressions
135. Adding and Subtracting Monomials
136. Using Addition and Subtraction to Solve Equations
137. Using Multiplication and Division to Solve Equations
138. Reading Problems: Writing Equations
139. Exponents and Literal Numbers
140. Exponents in Multiplication
141. Exponents in Division
142. Chapter 10 Review
142. Chapter 10 Test (in test booklet)

Chapter 11: Signed Numbers, Tables, and Graphs

144. Introduction to Signed Numbers.
145. Adding Signed Numbers
146. Subtracting Signed Numbers
147. Multiplying and Dividing Signed Numbers
148. Evaluating Expressions With Signed Numbers
149. Constructing Tables From Formulas
150. Constructing Graphs From Formulas
151. Polynomials and Signed Numbers
152. Reading Problems: More Practice with Equations
153. Chapter 11 Review
154. Chapter 11 Test (in test booklet)

Chapter 12: Other Numeration Systems and Final Reviews

155. Reading Electric Meters
156. Using Scientific Notation
157. The Concept of Base in Numeration
158. The Duodecimal (Base Twelve) Numeration System
159. The Binary (Base Two) Numeration System
160. Review of Base Twelve and Base Two Numeration
161. Final Review of Basic Mathematical Operations and Measures
162. Final Review of Mental Calculation, Factoring, and Fractions
163. Final Review of Decimals, Ratios, and Proportions
164. Final Review of Percents and Statistics
165. Final Review of Plane Geometry and Graphs
166. Final Review of Solid Geometry and the Pythagorean Rule
167. Final Review of Finances
168. Final Review of Algebra
169. Review of Chapter 12 and Final Review
170. Final Test (in test booklet)

Quizzes and Speed Tests

...
86. Speed Test: Basic Math Facts
...
132. Quiz: Calculating Interest
...

Chapter Tests 7 - 12
Index
Symbols
Formulas
Tables of Measure
Customers who bought this product also bought
Customers who viewed this product bought