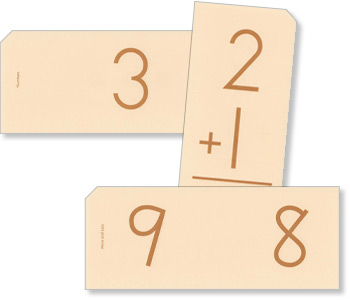 Flash cards for Beginning Arithmetic. (These are compatible with the previous edition as well.)
208 cards, 3.5" x 8.5".
They include vertical addition and subtraction facts (through sums of 10) and other number exercises.
Flash Card Exercises

Numbers: 0 to 20, and then to 100 by 10's
On reverse Number Patterns: 0 to 10
After: 1 to 12
On reverse Before: 0 to 11
Between: 1 to 9
Number Order: 1 to 19
More and Less: 1 to 10
Addition: through sums of 10
Subtraction: through sums of 10
These cards might seem a little expensive, but there are a lot of cards and will save you a lot of time. You should use flash cards in order to quicken the child's responses. Great for review work. The teacher's manual tells you when to use the cards.
Addition/Subtraction Facts included:
Bottom Number

Top Number
0
1
2
3
4
5
6
7
8
9
10
0
+-
+-
+-
+-
+-
+-
+-
+-
+-
+-
1
+
+-
+-
+-
+-
+-
+-
+-
+-
+-
-
2
+
+
+-
+-
+-
+-
+-
+-
+-
-
-
3
+
+
+
+-
+-
+-
+-
+-
-
-
-
4
+
+
+
+
+-
+-
+-
-
-
-
-
5
+
+
+
+
+
+-
-
-
-
-
-
6
+
+
+
+
+
-
-
-
-
-
7
+
+
+
+
-
-
-
-
8
+
+
+
-
-
-
9
+
+
-
-
10
+
-
Customers who bought this product also bought
Customers who viewed this product bought