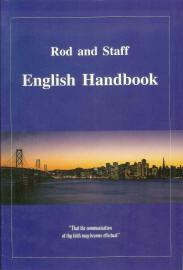 English Handbook
Soft cover
311 pages
1 lbs
Item #1-12931-3
The handbook contains important rules of grammar and usage, and it instructs pupils in good writing habits for each of the composition types. Grammar and composition rules are compiled in this handbook to allow for a more complete coverage of the rules.
The uses of the handbook reach far beyond school. Adults desiring to study grammar or composition rules will find it a very useful tool. Writers will also find it to be a great aid.
Edges of pages are color-keyed to the Table of Contents for quick chapter look-up. For further ease-of-use, subtopics are included in the outside margin of each page.
Grammar

I. Parts of Speech
II. Usage
III. Sentence Elements

Composition

IV. Effective Sentences
V. Effective Paragraphs
VI. Letters and Other Special Compositions
VII. The Short Story
VIII. The Expository Essay
IX. The Argumentative Essay
X. The Descriptive Essay
XI. Poetry
XII. Editing Skills
XIII. Writing Style
XIV. Listening and Speaking Skills
XV. Study Skills
XVI. Reference Sources
XVII. Parliamentary Procedure
Customers who bought this product also bought
Customers who viewed this product bought