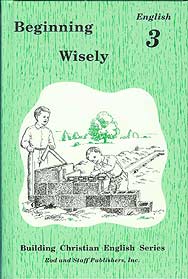 Grade 3 English Pupil Textbook
Hard cover
321 pages
1.28 lbs
Item #1-12303-3
Also available
used
$10.05
Pupil textbook for Beginning Wisely.
125 lessons plus reviews and extra activities.
Communication skills are taught in Grade 3. Understanding sentence type and structure is basic to writing sentences, and then paragraphs and stories. Sentence parts are studied, and some simple diagramming. Nouns, pronouns, verbs, adjectives and adverbs and their correct usage are exercised. Dictionary work, capitalization and punctuation, proofreading, and oral communication round out this English course.
Customers who bought this product also bought
Customers who viewed this product bought