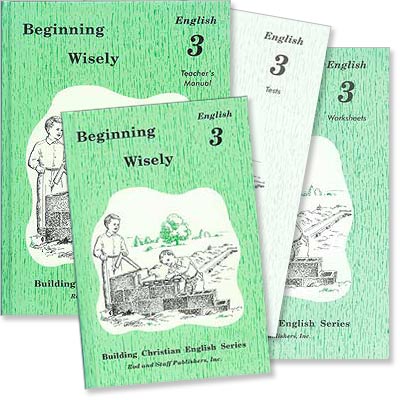 Grade 3 English "Beginning Wisely" Set
English 3 has 125 regular lessons and 10 review lessons. Communication skills are taught. Understanding sentence type and structure is basic to writing sentences, and then paragraphs and stories. Sentence parts are studied, and some simple diagramming. Nouns, pronouns, verbs, adjectives, and adverbs and their correct usage are exercised. Dictionary work, capitalization and punctuation, proofreading, and communication skills round out this English course.
A booklet of 70 worksheets offers additional practice. These may be used as workbooks for all the students or as a resource for the teacher to select and copy the ones needed.
A test booklet provides a test for each of the 5 units.
The teacher's manual gives guidance for presenting the lessons. It shows a reduced copy of the pupil's pages with the answer key beside the exercises. Answer keys are also included for the worksheets and text booklets.
Recommended (not included):
Table of Contents

Unit 1 - Building With Sentences

1. An Introduction to Your English Book
2. Using the Dictionary
3. More About the Dictionary
4. What Is a Sentence?
5. Telling Sentences
6. The Two Sentence Parts
7. Subjects and Predicates
8. Reviewing What You Have Learned
9. Asking Sentences
10. Subjects and Predicates in Asking Sentences
11. Commanding Sentences and Exclaiming Sentences
12. Subjects and Predicates i.n Commanding Sentences
13. Telling, Asking, Commanding, and Exclaiming Sentences
14. Reviewing What You Have Learned
15. Capitalization and Punctuation in Names and Initials
16. Quotations and Quotation Marks
17. Writing Quotations
18. More About Quotations
19. Using Apostrophes
20. More About Apostrophes
21. Reviewing What You Have Learned
22. Checking for Capitalization
23. Proofreading for Punctuation
24. Checking Our Spelling
25. Reviewing What You Have Learned
Review One
Review Two
Extra Activity
A Poem to Enjoy

Unit 2 - Building With Nouns and Pronouns

26. Learning About Words That Name
27. Names of People and Places
28. More About Proper Nouns
29. Other Proper Nouns
30. Reviewing What You Have Learned
31. Singular and Plural Nouns
32. Plural Nouns and Possessive Nouns
33. Plural Nouns Not Ending With s
34. Writing Nouns in a Series
35. Reviewing What You Have Learned
36. Words That Stand for Nouns
37. Pronouns That Tell Who
38. Pronouns That Tell Whom
39. Choosing the Correct Pronoun
40. Reviewing What You Have Learned
41. When a Noun and a Prononm Work Together
42. Using Commas With Nouns and Pronouns
43. Another Use for Commas
44. When to Use Pronouns
45. Reviewing What You Have Learned
46. Pronouns That Tell Whose
47. Pronouns for People and Things
48. Pronouns That Tell Which One
49. Using This, That, These, and Those
50. Reviewing What You Have Learned
Review One
Review Two
Extra Activity
A Poem to Enjoy

Unit 3 - Building With Verbs

51. Action Verbs
52. More About Action Verbs
53. Verbs That Tell About the Past
54. Past Forms Without ed
55. Reviewing What You Have Learned
56. Singular and Plural With Verbs
57. The Verb Be
58. Using Verbs With There
59. Meeting More Action Verbs
60. Reviewing What You Have Learned
61. Helping Verbs
62. Did—Done and Saw—Seen
63. Came—Come and Went—Gone
64. The Little Word Not
65. Reviewing What You Have Learned
66. Subjects and Predicates
67. Nouns After Action Verbs
68. Diagraming Nouns After Action Verbs
69. More About Action Verbs
70. Reviewing What You Have Learned
71. Meeting the Paragraph
72. Writing Sentences in Correct Order
73. The Topic of a Paragraph
74. Choosing a Good Title
75. Reviewing What You Have Learned
Review One
Review Two
Extra Activity
A Poem to Enjoy

Unit 4 - Building With Adjectives and Adverbs

76. Words That Tell What Kind Of
77. Words That Tell How Many and How Much
78. Words That Tell Which
79. Reviewing What You Have Learned
80. A, An, and The
81. Words That Tell Whose
82. Using Adjectives Correctly
83. Reviewing What You Have Learned
84. Words That Tell How
85. More About Adverbs
86. Words That Tell When
87. Words That Tell Where
88. How, When and Where
89. Reviewing What You Have Learned
90. Recognizing Adjectives and Adverbs
91. Well and Good
92. More About Adverbs and Adjectives
93. The No Words
94. Using the No Words Correctly
95. Reviewing What You Have Learned
96. Writing a Story From Pictures
97. Using Words to Make Pictures
98. Writing Smoothly
99. Sharing an Experience
100. Reviewing What You Have Learned
Review One
Review Two
Extra Activity
A Poem to Enjoy

Unit 5 - Building With Our Language

101. Looking at the Dictionary Again
102. Hornophones
103. Words With More Than One Meaning
104. Synonyms and Antonyms
105. Reviewing What You Have Learned
106. Describing a Thing
107. Describing a Place
108. Describing a Person
109. Describing Orally
110. Reviewing What You Have Learned
111. Making Introductions
112. Using a Telephone
113. How to Do Something
114. Reviewing What You Have Learned
115. The Parts and Form of a Friendly Letter
116. Rules for Writing a Friendly Letter
117. Writing to Share With Others
118. A Thank-you Letter
119. Reviewing What You Have Learned
120. Poetry
121. Rhyme in Poetry
122. Rhythm in Poetry
123. Reading Poetry
124. Writing a Poem
125. Reviewing What You Have Learned
Review One
Review Two
Extra Activity
A Poem to Enjoy
Customers who bought this product also bought
Customers who viewed this product bought