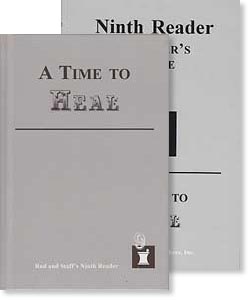 Grade 9 Reading "A Time to Heal" Set
A Time to Heal contains 60 selections of essays, narratives, and poems; 5 are Biblical selections, and 11 contain Anabaptist themes. The study exercises are more extensive than in Grade 8. The paragraphs in the text are numbered, and literary terminology is marked to help the student with the exercises.
The teacher's manual has an answer key and provides background information to enrich the class.
Table of Contents

1. A Handful of Clay...
2. Book Learning
3. Have Faith
4. Life, Light, and Fellowship (1 John 1)
5. The Roman Persecution of Christians
6. Old Sulidan the Chieftain
7. Better Things
Introduction to Anabaptist Writings
8. George Bauman and Anna of Freiburg (1529)
9. Explorer of the Stars
10. Poetry for You
11. The Ridiculous Optimist
12. The Emperor and the Anabaptists
13. Abraham Lincoln's Letter
14. A Moment of Time
15. My Soul Doth Magnify the Lord
16. Gods Incomparable Greatness (Isaiah 40)
17. The Masterpiece
18. The Majestic Language of the Bible
19. The Bridge Builder
20. Govert, Gillis, Mariken, and Anneken (1550)
21. How Much Land Does a Man Need?
22. The Most Dangerous Word
23. Wisdom of Discipline
24. Joris Wippe, Joosten's Son, Put to Death at Dortrecht (1558)
25. An Effectual Prayer
26. Beauty of the Clouds
27. The Right Must Win
28. Judah's Supplication to Joseph (Genesis 44:14-45:15)
29. The Country Doctor
30. The Private Life of Insects
31. The Waterbed Lilies
32. Promises for Those Bearing the Cross
33. Adrift on an Ice Pan
34. The Snow Storm
35. Has God Spoken?
36. My God, Where Shall I Wend My Flight?
37. Life for a Leper
38. The Indians of North America
39. The Refiner
40. Preface to A Mirror of Baptism
41. From Inside a Mosquito Net
42. The Suffering Saviour (Isaiah 52:13-53:12)
43. An Ideal Meeting House (a Parable)
44. God Needs Men!
45. The German Translation of Martyrs Mirror (1748)
46. The Master
47. God, the True Object of Confidence
48. The Living Temple
49. A Spark Neglected
50. Pure Love to God and to Our Neighbor
51. One by One
52. Uncle Tom's Cabin
53. What to Do to Be Saved
54. Stopover in Queretaro
55. Now the Laborers Task is Ore
56. New Members, One and All (Ephesians 2)
57. The Right to Run Things
58. At the Place of the Sea
59. The Keepers of the Nest
60. Stemming the Tide of Worldliness and False Doctrine
Customers who bought this product also bought
Customers who viewed this product bought