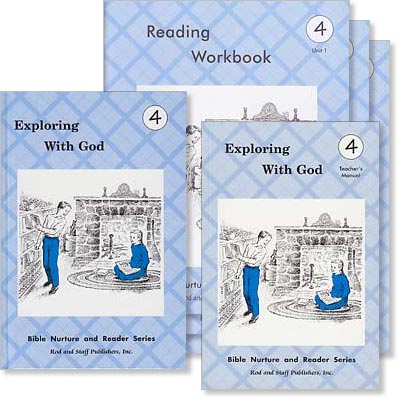 Grade 4 Reading "Exploring With God" Set
The grade 4 reading curriculum has only 75 lessons instead of 150 as the previous grades do. Each lesson may be done in two parts, as indicated in the teacher's manual and the workbooks, taking two days per lesson.
Reader
One hardbound reader contains all 75 lessons, divided into three units. Unit 1 is "The Gospel of John." Unit 2 is "The Book of Acts" with an emphasis on map work and following the travels of the apostle Paul. Unit 3 is "Job, Psalms, and Proverbs." The Psalms lessons are in poetry form. The Proverbs lessons each have a present-day or historical story to illustrate the proverb of that lesson. At the back of the reader is a glossary of significant words, along with a pronunciation guide, which will help with learning to pronounce Bible names.
Workbooks
There is a separate workbook for each unit of the reader. Exercises develop vocabulary and comprehension skills, and they may be divided to provide activity for two days on one lesson. Each workbook ends with a unit test.
Teacher's Manual
Detailed instructions for the benefit of new teachers. Guidelines are given to help develop good oral reading, and discussion questions are suggested for comprehension development. Occasional oral quizzes and a full answer key to the workbooks are provided.
Supplementary items (not included):
Table of Contents

Unit 1: The Gospel of John

1. Introduction to John and Jesus Comes to Earth
2. John the Baptist Reveals Jesus
3. The Beginning of Jesus' Ministry
4. Jesus Explains the New Birth
5. Jesus and the Woman at the Well
6. Jesus Performs Miracles of Healing
7. Jesus Feeds the Five Thousand
8. The Pharisees Seek Jesus' Life
9. Guilty Accusers
10. Sight and Salvation for a Blind Man
11. The Good Shepherd
12. A Death for the Glory of God
13. "Blessed Is the King of Israel!"
14. Death Leads to Life
15. The Last Supper
16. Jesus Teaches the Troubled Disciples
17. Jesus Prepares the Disciples
18. Jesus Betrayed and Arrested
19. Jesus Before Pilate
20. Jesus Gives His Life
21. Joy After Sorrow
22. Jesus and the Disciples at the Seashore

Unit 2: The Book of Acts

1. Introduction to Acts and The Ascension of Jesus
2. The Day of Pentecost
3. Peter and John in the Temple
4. Ananias and Sapphira
5. The Witness of Stephen
6. Samaria Receives the Word of God
7. Conversions of the Ethiopian and Saul
8. Gentiles Receive the Holy Ghost
9. Peter's Release from Prison
10. Paul and Barnabas as Missionaries
11. Paul and Barnabas Continue Their Ministry
12. The Meeting at Jerusalem
13. The Philippian Jailer
14. Paul Preaches on Mars' Hill
15. Disciples at Ephesus
16. The Uproar at Ephesus
17. Paul's Address to the Ephesian Elders
18. Paul's Address at Jerusalem
19. Paul Is Taken to Caesarea
20. Paul Before Felix and Festus
21. Paul's Address to Agrippa
22. Shipwreck
23. Paul at Rome

Unit 3: Job, Psalms, Proverbs

1. Job's Affliction
2. Job's Friends Come to Visit
3. Discussion With Job
4. Elihu Speaks and God Speaks
5. God Corrects and Blesses
6. The Book of Nature and Scripture
7. The All-Seeing God
8. The Good Shepherd
9. The Works of God
10. God's Goodness
11. God's Word
12. Praise
13. A Prayer in Danger
14. Pleading for Pardon
15. The Righteous and the Wicked
16. What a Day May Bring Forth
17. Slow to Anger
18. The Firstfruits
19. Flattery's Net
20. Disappointed Brothers
21. Joined Hands
22. Grievous Words
23. Enemies at Peace
24. The Rich Poor
25. Better Than Great Treasure
26. The Best Medicine
27. Fuel for Fire
28. Thou Shalt Understand
29. No Lack
30. Diligent in His Business
Customers who bought this product also bought
Customers who viewed this product bought