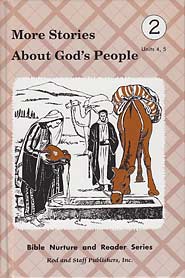 Grade 2 Reader Units 4,5
Hard cover
261 pages
1.08 lbs
Item #1-11204-3
Reader units 1-3 for Stories About God's People.
Unit 4 continues studies in the Old Testament to the death of King Saul. Unit 5 consists of stories about Jesus taken from the Gospel of Luke. There is a reading workbook for each of the five units.
Also available in Russian.
Customers who bought this product also bought
Customers who viewed this product bought