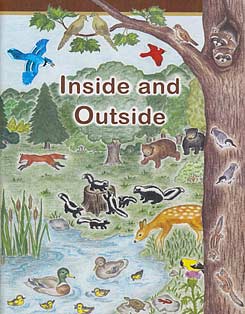 Preschool - Inside and Outside
Paper cover
64 pages
0.4 lbs
Item #1-10033
Also available in the preschool complete program set.
Inside and Outside has a woodlands theme.
Teaching Aims:
Practice neatness and carefulness in use and care of books.
Follow directions such as coloring, tracing, writing, drawing, counting, matching, cutting, and pasting.
Use the eight basic colors and introduce the color pink.
Use the four simple shapes and introduce the diamond shape.
Count and write numbers by 1's and 2's to 12, and by 10's to 100.
Count and identify numbers by 1's to 25.
Practice concepts: left or right; large or small; first or last; same, more or less; empty or full; longer, shorter, or taller.
Introduce the thermometer used to measure temperatures.
Consider the changes through the four seasons of the year.
Consider outdoor weather as sunny, rainy, windy, cloudy, and snowy.
Learn about woodlands of America, Europe, and Asia.

Many animals, birds, and insects live in woodlands.
Consider inside and outside of woodland homes.
Consider the size, sounds, food, and more of woodland animals.
Some animals hibernate and some migrate.
Customers who bought this product also bought
Customers who viewed this product bought