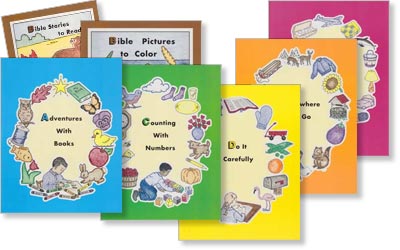 Preschool - ABC Series workbooks + storybook
Children will love this set of Bible stories with accompanying workbooks. The set starts with an enjoyable story book, Bible Stories to Read, with 60 stories you can read aloud to your children. The Bible Pictures to Color workbook also has a coloring page for each story that you read.
But the value does not end there—also included are:
A-B-C Series
This series provides preparation material. Six workbooks give practice in coloring, cutting, pasting, and following directions while learning neatness and carefulness with books. The storybook gives auditory and oral practice for the child.
For recommended scheduling, see Complete Program Set.
Compare Preschool Bundles:
Customers who bought this product also bought
Customers who viewed this product bought