Welcome to MilestoneBooks.com!
We are an independent vendor of materials by Rod & Staff and other publishers. We offer affordable Bible-based
curriculum
and character-building
storybooks
, helping build a solid Christian education for schools and homeschools. These quality textbooks take a traditional approach to schooling. We attempt to sell the best, and strive to provide fast, friendly service. We're a small business located near Halsey, Oregon, but we ship worldwide. Your questions and comments are welcome.
—Joel (more about us)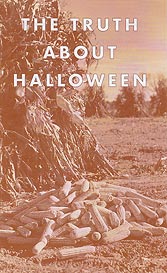 Should Christians Celebrate Halloween?
This tract examines the subject in the light of God's Word.
Read the full text online.
Available for distribution at bulk pricing. Order early while supplies last.
What's New...