Welcome to MilestoneBooks.com!
We are an independent vendor of materials by Rod & Staff and other publishers. We offer affordable Bible-based curriculum and character-building storybooks, helping build a solid Christian education for schools and homeschools. These quality textbooks take a traditional approach to schooling. We attempt to sell the best, and strive to provide fast, friendly service. We're a small, family-based business located near Halsey, Oregon, but we ship worldwide. Your questions and comments are welcome.
—Silas (more about us)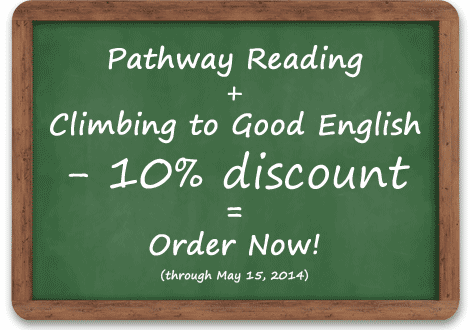 Pathway Reading Series + Climbing to Good English: 10% Discount
automatic discount
expires May 15, 2014
What's New at Milestone Books . . .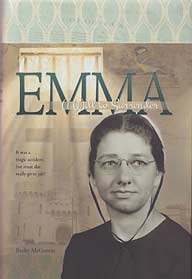 Becky McGurrin / Vision Publishers
It was a tragic accident, but must she really go to jail?
* * *
"It's okay, John," she said. "I'm just a little bird and God is moving my feeder." She wiped the tears from her own eyes. "I understand it now. We spend our whole life thinking we are the center of the universe. And then God shifts things around and we realize it isn't about us at all. It never was. It's about Him. We are just the little birds, singing the day away to make Him happy."
Emma is a Hurst, and a very determined one. Hursts are strong; they aren't known for giving up or giving in easily. But the chisel of affliction has a way of chipping away at human strength until it seems puny indeed. Epilepsy, death of loved ones, incarceration, cancer, the challenges of long singlehood followed by those of marriage—God used all these things to shape Emma into a woman with a sole desire to yield herself completely to Him.
Follow Emma through her fascinating journey as a Mennonite farm girl, factory seamstress, college student, public schoolteacher, wife, and widow. Be amazed at the wise and loving hand of God as He patiently guides, protects, and creates a Hurst with real strength: a daughter joyfully surrendered to her heavenly Father. More info...
---
Pablo Yoder / Christian Light Publications
The small ramshackle house sat on a knoll littered with rocks and boulders. The place was called The Rock Pile, and to Paul (the young Pablo Yoder), it was home.
Paul had a loving dad who provided for his family and reached out to neighbors, a devoted mom who supported her mission-minded husband and cared for her children, and a flock of adventurous brothers and sisters.
In Home on the Rock Pile little Paul and his brothers and sisters explore orchards, fields, and mountains. They troop through the snow to help needy neighbors. They meet dangerous snakes and befriend baby skunks. They work, play, scrap with each other, and learn some lessons the hard way. They listen to their dad preach and talk to people about Jesus. They are taught the importance of honesty and obedience and helping others. They learn to worship—to sing and pray for family needs and for their neighbors' souls.
Home on the Rock Pile is a fascinating look at the Sanford Yoder family in the early years of their work in the Blue Ridge hollows near Faith Mission Home. More info...
---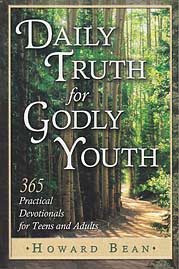 365 Practical Devotionals for Teens and Adults
Howard Bean / Christian Light Publications
A good devotional book is both inspirational and practical. It points readers to Christ and calls them to become like Him in their everyday lives. That's the goal of Daily Truth for Godly Youth.
From the March 17 devotional:
A friend said to a young man, "I hear you are connected with a Bible society."

"I see," said the young man. "Well, in one way that report is true. I am a translator. It keeps me very busy."

"Really?" said the friend, "I didn't know you had the linguistic ability and educational background to be a Bible translator."

The young man replied, "I am busy translating the New Testament into my daily life."
This book helps readers with the "translation," beginning with the premise that the Bible is the Word of God, and Christians need exposure to benefit from it. Daily exposure to truth, with daily response, results in growing godliness. Our devotional concludes,
Although you may know only one language and have little inclination or potential to translate the Bible into a foreign language, by God's grace and His Spirit, you can be a strong translator of the Bible into your daily life. The Bible: know it in your head; stow it in your heart; show it in your life.
Both teens and adults will be blessed by the captivating illustrations, the readable style, and the challenging comments in Daily Truth for Godly Youth. More info...
---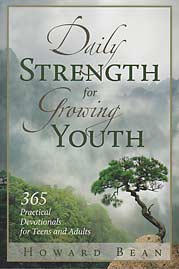 365 Practical Devotionals for Teens and Adults
Howard Bean / Christian Light Publications
The Jewish leaders considered the early Christians unlearned and ignorant. But when the believers confidently responded to their accusing questions, the astonished rulers recognized "that they had been with Jesus." What did the Jews see in the believers? Consider this story:
A group of prospectors tethered their limping ponies by a creek. One picked up a stone, wondering if it might contain gold. They hammered it open—and spent the rest of that day panning more gold. They said to each other, "We've struck it rich! We need to go to town to get supplies. But let's not tell anyone about our find."
Back in town, they quietly outfitted themselves for the big prospecting trip. But when they started back, three hundred men trailed them. Though not one of the men had said a word about the gold strike, their faces had given away the secret.
Likewise, the attitude and actions of a person with a close relationship with God bears witness to the world. That's what the Jews saw in the believers.
Daily Strength for Growing Youth is designed to be used in your time alone with God to help you think what the Bible says and to apply it to your life. May it bless you and help you grow closer to God so those around you will notice you, too, have been with Jesus. More info...
---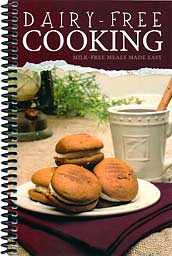 Milk-Free Meals Made Easy
Lynnette Stauffer
What do you cook for your family when your children are milk intolerant? Lynnette and Burnell Stauffer are dismayed by the lack of alternative resources to tap into. Searching for recipes suitable for little Kayana Jade and Brayden Lance, they begin to make contact with other families faced with the same dilemma. As their circle of unknown friends grows, so does the list of non-dairy recipes.
Dairy-Free Cooking is a treasury of over 330 delicious, nourishing, recipes without a single dairy ingredient. Planning milk-free meals has become easier than ever. Of special value is the Dairy Substitutes section, showing you how to make almond, rice, coconut or soybean milk and substitute cheese.
Does a dairy-intolerant child have to live without ice cream? Of course not! What about whipped topping and chocolate chips? Milk-free recipes in Dairy-Free Cooking let you enjoy all of these... and more. More info...
---
Pleasant Valley Farm Series
Helga Moser / Christian Light Publications
Snoopy's new home at Pleasant Valley Farm was cozy and safe. She had plenty of fresh green grass to eat, and a tall wire fence protected her from hungry coyotes. But Snoopy was not content. Then one afternoon she wandered up the hillside alone and found herself in big trouble. More info...
---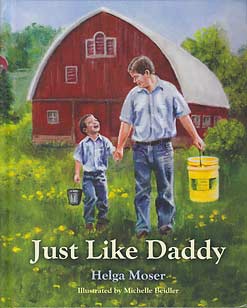 Helga Moser / Christian Light Publications
Johnny can't carry the heavy grocery bags like Daddy, but he can carry the diaper bag (though it does get a little wet!). Johnny isn't brave enough to chase away the mean dog, but he can chase away that strange black and white "cat." Johnny isn't tall enough to reach the flowers Daddy picked for Mother, but he can reach the yellow ones on the ground. Every day of the week, Johnny watches his daddy and tries to be just like him. Heartwarming pencil drawings illustrate this book by the author of the Pleasant Valley Farm series. More info...
---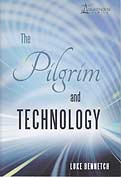 Luke Bennetch / Christian Light Publications
Technology has brought us a host of new forms of communication, many of which we find very useful. But are we masters of our tools, or have these gadgets become our masters? This pamphlet addresses the phenomenon of the "Absent Presence", the intoxication of speed and immediacy, the impress of the internet, and the challenge of harmonizing convictions in the brotherhood. More info...
---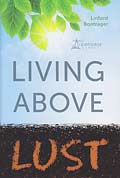 Linford Bontrager / Christian Light Publications
Esau had a wonderful and bright future; but he lived for the moment and traded his inheritance for a miserable bowl of lentil stew. Why? Because the bowl of stew met the immediate desires of his flesh.
Too many Christians have been willing to exchange their birthright—their grand and rich position as heirs of glory with Christ—for a moment of illicit sexual pleasure. Amazing advances in technology allow people to commit sin in more ways and more quickly than ever before. We are at war, and there are too many casualties.
Do you or someone you love need help in this war? This book can help. More info...
---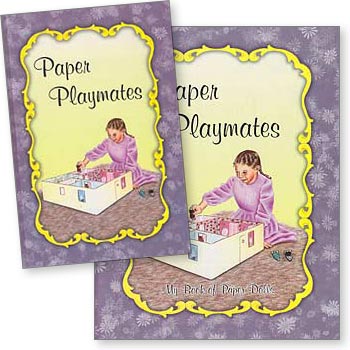 Evelyn Hackman / Rod and Staff Publishers
How would you like a playmate...
That is small enough to fit in your pocket.
That is happy when you want her to be happy and sad when you want her to be sad.
Who won't care if she is Sally one minute and Samantha the next.
Who will stay where you put her until you are done washing the dishes.
Who will smile sweetly at you, no matter how you treat her.
That you can replace with a dozen or so more if she gets lost, torn, or drowned.
Enjoy life along with Nancy and her paper dolls. Learn what happens when a paper doll goes along to church or gets lost in the junk-drawer disaster. Read about the beautiful gift that comes to Nancy, and the hard decision that it brings to her.
Take the opportunity to create your own paper-doll family from the set in the paper-doll booklet that goes with this storybook. Then make some for your sisters and friends so that girls everywhere can enjoy paper playmates. More info...
---