Welcome to MilestoneBooks.com!
We are an independent vendor of materials by Rod & Staff and other publishers. We offer affordable Bible-based curriculum and character-building storybooks, helping build a solid Christian education for schools and homeschools. These quality textbooks take a traditional approach to schooling. We attempt to sell the best, and strive to provide fast, friendly service. We're a small business located near Halsey, Oregon, but we ship worldwide. Your questions and comments are welcome.
—Silas (more about us)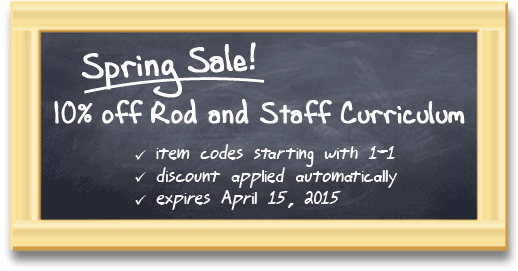 Rod and Staff Curriculum Sale: now 10% off!
item codes starting with #1-1
automatic discount
expires April 15, 2015
What's New at Milestone Books . . .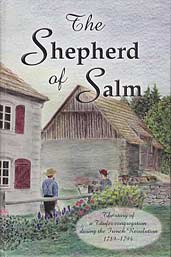 The story of a Täufer congregation during the French Revolution (1789-1794)
Joanna F. Martin / Rod and Staff Publishers
"What's going on here?" a voice thundered. "I wish you Täufer would get out of here!"
Christian Gerber jumped. Who? What? Why would anyone be so angry?...
He tried to remember. Something about that voice seems familiar—that German with a heavy French accent. Who can he be?
To Christian, Paris seemed far away that summer afternoon in Salm, and he did not guess how the uprisings the stranger described would affect the the next years of his life or disrupt the home he hoped to share with Anna K¨pferschmitt or call him to the greatest privilege God grants His children—the opportunity to lay down life to gain Life. Yet, Christian had placed his faith in the Shepherd, and he was ready to follow.
The Shepherd of Salm is a carefully researched and fully documented story of real people in real places. Some of this material has been gleaned from resources that were freshly translated into English specifically for this project. More info...
---
How a Cambodian genocide survivor and an American biker found the Lord and each other
MarJanita Geigley / Christian Light Publications
Young Pouv had a tender heart and a curious mind. Things just don't make themselves, she thought. Born into a Buddhist family in Cambodia, how would she find the truth?
When the Khmer Rouge swept in, bringing unimaginable horrors to Cambodia, Pouv's world—and her family—was ripped apart. Forced labor, brutal treatment, and living near starvation became her daily existence. Hundreds of thousands perished.
Pouv's questions remained. Looking into the starry night sky, she asked, "Do you ever wonder where this all came from?" No one answered. Did anyone know?
Dennis Burfete was a rowdy young rebel. Quick to take his own way and slow to follow orders, he was constantly in trouble. As a young man, joining a motorcycle gang gave him a sense of power and independence. "No one tells me what to do," he said defiantly. But his life became a wasteland of emptiness. Was this the best life had to offer?
Dennis and Pouv's lives were worlds apart, but they shared a common and desperate need. They each found the one and only truly satisfying Answer, and then they found each other.
A true testimony of God's love and mercy. More info...
---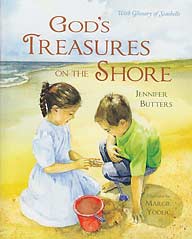 Jennifer Butters / Christian Light Publications
"Please come along and walk with us
along the sandy shore.
We'll search for treasures that were once
upon the ocean floor."
This beautifully-illustrated book of rhymes introduces children to beach creatures such as hermit crabs, starfish, and several types of shells. After taking a walk along the shore with a family (grandparents too!), your child can browse a glossary with more pictures and in-depth descriptions about these fascinating treasures which God created on the fifth day. More info...
---
And Other Stories of Earlier Days in America
Ruth K. Hobbs / Christian Light Publications
Let's go visit people who lived long ago—most of them over a hundred years before you were born! Their lives differed from ours in many ways. Imagine running a farm and taking care of your family alone, spending a winter in the north woods trapping animals, or working long hours in a grinding room. Young people today just don't do those kinds of things.
Times have changed since those days, but people remain the same. Young people then knew that obedience, respect, kindness, and hard work were important, just as we do. They faced temptations to do things they knew were wrong, just as we do.
Come along! Open the book—let's go visiting. What do these friends from long ago have to tell us? More info...
---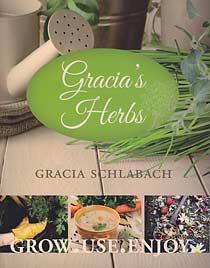 Gracia Schlabach / Carlisle Press
Do you love herbs with their intriguing flavors, colors, and textures? From leafy green basil to delightful sweet lavender, with rugged comfrey in between, herbs provide amazing natural seasoning, fragrance, and medicine.
Follow Gracia's hands-on experience as she plants the herb garden, sows seeds, and snips leaves for drying. Savor delicious herbs as she combines her favorite flavors. Then discover the versatility of herbs as she explores projects throughout the year—indoors and out. More info...
---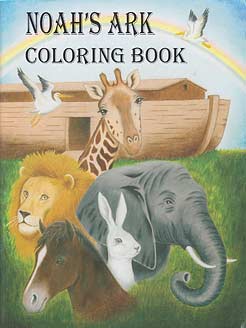 Rhoda Showalter and others / Christian Light Publications
Simple text and realistic, easy-to-color pictures bring the Bible story of Noah to life for young children. Provides hours of activity while reinforcing the story of God's promise. Includes cutouts for making a paper stand-up animals and stand-up ark (not to scale). More info...
---
Mary Currier / Christian Light Publications
Justin knew that he should never go into the jungle. Dangerous animals lived there. So when Justin built his play hut under the leafy bubinga tree, he thought he was safe. Stunning artwork on every page. Recommended for ages 3 to 6. More info...
---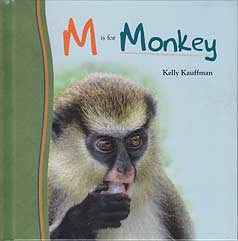 Kelly Kauffman / TGS International
Most children love pets, but not many youngsters have pet monkeys. Kelly's family had two! Tinker and Sassy were a lot of fun. But monkeys are also mischievous and can cause lots of trouble. Follow the antics of Tinker and Sassy as they make life exciting for the Kauffman family in Liberia. Children of all ages will enjoy the stories and pictures in this full-color book. More info...
---
Rebecca Newswanger / Christian Light Publications
Rhyming couplets illustrated with pencil drawings explain how milk and milk products get from a cow to the table via the modern dairy farm, transport truck, and factory. More info...
---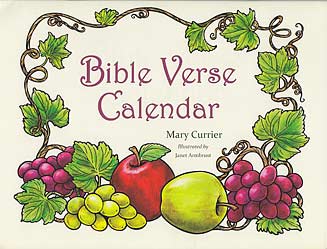 Mary Currier / Christian Light Publications
This unique book provides children with an opportunity to create their own wall calendar by coloring in the picture mottoes, and writing the days of the month. It is undated, but includes thumbnail calendar dates in the front through 2020. This book is designed to help your children express their creativity. By coloring the pictures carefully, they can enjoy them each day of the month. Later, verses from outdated calendars may be framed to be used as mottoes.
As children fill in the numerals for each day of the month, they will observe that a month may begin on any day of the week. Below the numerals, they may want to write birthdays of family or friends, or other important events.
We hope this calendar will increase children's interest in understanding and using a calendar regularly. More info...
---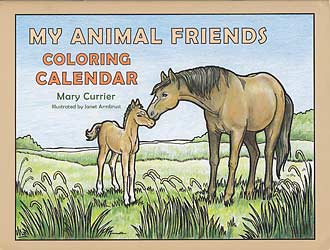 Mary Currier / Christian Light Publications
This book is designed like the Bible Verse Calendar above. It provides children with an opportunity to create their own wall calendar by coloring in the picture mottoes, and writing the days of the month. It is undated, but includes thumbnail calendar dates in the front through 2022. More info...
---