Welcome to MilestoneBooks.com!
We are an independent vendor of materials by Rod & Staff and other publishers. We offer affordable Bible-based curriculum and character-building storybooks, helping build a solid Christian education for schools and homeschools. These quality textbooks take a traditional approach to schooling. We attempt to sell the best, and strive to provide fast, friendly service. We're a small, family-based business located near Halsey, Oregon, but we ship worldwide. Your questions and comments are welcome.
—Silas (more about us)
What's New at Milestone Books . . .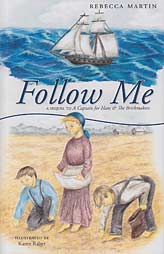 A sequel to A Captain for Hans and The Brickmakers
Rebecca Martin / Carlisle Press
Twelve-year-old Daniel Miller hardly knew how to feel about his parents' plan. Would they really cross the ocean to the land of William Penn? What an exciting idea!
Yet Daniel, grandson of the Hans Miller you first met in A Captain for Hans, and son of the Peter Miller you met in The Brickmakers, likes his snug home in the German Palatinate. An ocean voyage looks scary. And besides, what of his crippled friend, David Burkholder? He would never be able to go. And Daniel, along with his older brother Aaron, could not bear the thought off leaving him behind. More info...
---
Antrim Chorale / TGS International
49 minutes. 17 a cappella songs.
We all come to a crossroad in life where we need to choose whose voice we will follow. Satan calls us to follow him, wanting us to remain slaves to sin and end up with him in hell. But Jesus calls us from a heart of love. He proved His love when He died on the cross to redeem us with His own blood. Jesus does not force anyone to accept this pardon, but He patiently stands by the door of our hearts and knocks. More info...
---
John D. Martin / Benchmark Press
Over 1016 shape-note songs covering a wide range of topics. Solid hymns extolling God's attributes are emphasized, and a selection of quality gospel songs of Christian experience are also included. Multiple indexes will help in choosing a song for a particular need. More info...
---
Early Classic Series
W. H. Kingston / TGS International
When the Reformation sweeps across Germany, a woodcutter and his grandchildren hear the story of Jesus' sacrifice on the cross and realize that salvation does not come through performing penances and confessing to the priests. They believe the Gospel and seek to follow God's Word. Though opposed by a contentious neighbor, the woodcutter finds an opportunity to return good for evil. More info...
---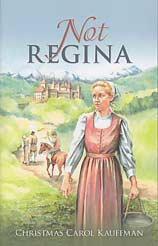 Christmas Carol Kauffman / Christian Light Publications
The 1500's were stirring times in Europe. Luther nailed his ninety-five theses to a church door in Germany, exploding a powder keg of unrest that seethed for decades.
Against this background, Regina Strahm found herself caught between two religious factions in Switzerland. Her parents repeatedly warned her against the Anabaptist heresy, and the young man she came to love had no doubts about the state church's claims.
But why then did Zwingli's official religion fail to satisfy her spiritual emptiness? And why were the Anabaptists willing to die for their faith? Regina discovered why, and found a joy she had never known. More info...
---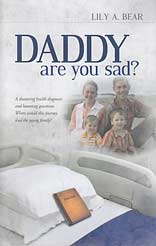 Lily A. Bear / TGS International
As humans, we look to the future with hope. We have dreams and plans for the years ahead. But sometimes God calls us to walk on paths far different than those we would have chosen.
This was the case for Donny and Nicole Good. As a young-married couple with an infant son, they had dreams of a happy family and a long future together. But when Danny received a shattering health diagnosis, those dreams were replaced with haunting questions. Was God really good? Why was He allowing this? Could there be any purpose in this devastating experience? The future looked dark and foreboding.
This story is a journey through the ups and downs of Donny's illness, but more than that, it is a spiritual pilgrimage toward surrender and acceptance of God's plan. As Donny and Nicole progress on this journey, they discover God in ways they could not have imagined before.
Daddy, Are You Sad? is a heartrending story, yet it is also a story of hope. It offers hope because it chronicles triumph over doubt, discouragement, and death, a triumph possible only through God. More info...
---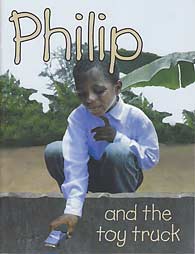 Martha Horst / Lamp and Light Publishers
At the market with his mother, Philip spies a toy truck that he wants. His mother tells him that he cannot have the truck. He already has a ball, she says, and the Bible says, "Be content with such things as ye have." Philip is not content, though, and so he steals his friend's toy truck. But this does not bring the satisfaction he expected. Philip finds happiness and contentment only after his parents help him return the stolen truck and clear up the lie he had told his teacher about it.
Dishonest children often grow into dishonest adults. One of the greatest gifts parents can give their children is to first be an example of honesty—and then make sure their children follow that example. More info...
---
Evelyn Hege / Lamp and Light Publishers
Jorge's father gives him a coin to take with him when he goes to market with his mother. Jorge could use the coin to buy anything he wants—chewing gum, a ball, a mango.... But instead of buying something for himself, Jorge gives his coin to a lame man who is along the street asking for money. When Jorge gets home, he does not have anything that he bought with his coin. But he does have a happy heart.
This story, set in northern Mexico, will teach your children the joy of giving. More info...
---
Ronald J. Border / TGS International
The Bible teaches that the genuine Christian has the assurance of salvation. But the promise of assurance is conditional. To live in assurance means to walk in obedience to Christ and in the liberty from sin and condemnation that He provides. Only as we use our Christian liberty responsibly can we be assured of continued relationship with Christ. More info...
---
Virgil Schrock / Rod and Staff Publishers
This treatise on the Book of Revelation is written to shed light upon the message that God sent to the churches through the apostle John. But Revelation is a source of controversy among many religious people. So strong has the controversy been that many Bible readers are inclined to leave the study of Revelation to people more scholarly than they. This is unfortunate, because Revelation has a message pertinent to the church today and should be an inspiration to faithfulness for God's people.
The Lamb, the Lion, and the Light is not intended as a final authority on Revelation. Neither is it intended to challenge those who may appreciate a different perspective of Revelation. Rather, it is designed to provide a tool by which to discover the blessings in store for the earnest seeker as he studies the Book of Revelation. The ultimate purpose of this writing is to exalt the Lord Jesus—the Lamb, the Lion, and the Light. More info...
---