Welcome to MilestoneBooks.com!
We are an independent vendor of materials by Rod & Staff and other publishers. We offer affordable Bible-based curriculum and character-building storybooks, helping build a solid Christian education for schools and homeschools. These quality textbooks take a traditional approach to schooling. We attempt to sell the best, and strive to provide fast, friendly service. We're a small, family-based business located near Halsey, Oregon, but we ship worldwide. Your questions and comments are welcome.
—Silas (more about us)
What's New at Milestone Books . . .
Helping You to Be a Better Steward of the Resources God Has Given You
Carlisle Press
Packed with inspiration and information that will help you be a better steward of the time, money and talents God has blessed you with. 32 articles by 22 authors. More info...
---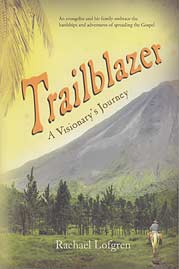 An evangelist and his family embrace the hardships and adventures of spreading the Gospel
Rachael Lofgren / TGS International
As the young rebel rode through town on his spirited horse, he reveled in the freedom he had to make his own choices. He could have fun showing off his riding prowess. He could choose his own friends. Someday he would go anywhere he liked, and he would show his family and community all he could do.
But a change was in the making, and Sanford found it harder and harder to enjoy his selfish pursuits. And when he finally yielded himself to God, he found that the real adventures were only beginning. Now, instead of making a name for himself, he wanted to glorify God's name. And God was faithful to provide Sanford with many opportunities to do just that.
When a man who is eager for new challenges embraces God's call, anything can happen. God used Sanford to expand His kingdom in new and innovative ways. Yet, while the trailblazer experienced many exciting adventures, his life consisted primarily of serving God in ordinary days filled to the brim with hard work, difficult questions, and relational challenges. More info...
---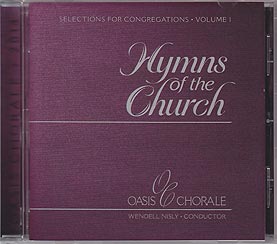 Oasis Chorale
40 minutes. 17 a cappella songs selected from Hymns of the Church. Words included on insert. More info...
---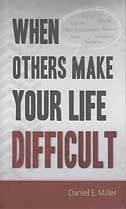 Daniel E. Miller / TGS International
In a broken world, we all encounter people whose behavior seems calculated to hurt us and hinder our progress. Jesus teaches us to respond to such offenses with active grace and creative peacemaking. This is a high calling. When others weary us with thoughtlessness and negativity, or wound us with malice and slander, it is not easy to rise above our own injuries to view thees offenses from God's perspectives.
Building on Biblical truths about God and humanity, this book offers inspiring examples and practical strategies to help us reflect Christ's love to others, even when they make our lives difficult. More info...
---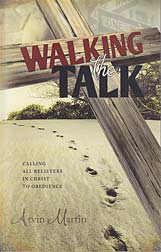 Calling All Believers in Christ to Obedience
Arvin Martin / Vision Publishers
Arvin Martin never thought he would be an author, but as he reached out to people, the Lord led him into prison ministry. What he heard and saw convinced him to write this book.
This book calls men to an obedient life in Christ for He said, "If you love me you will will keep my sayings."
Study questions follow each chapter. More info...
---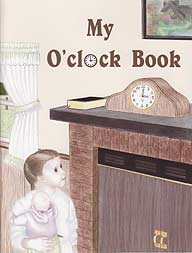 Little Jewel Book
Alta Fox / Rod and Staff Publishers
Judith is the youngest of 11 children. Their family lives on a farm. Join Judith and learn to tell time by her experiences through the passing hours on a typical day. More info...
---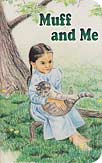 Mabel Martin / Rod and Staff Publishers
This simple picture book is intended not only as entertainment for small children but also as a teaching tool to help them appreciate the gifts God gives us. The fantasy found in many children's books is detrimental to the development of sound character. Our hope is that this book can be used to instill seeds of truth into very young minds. More info...
---
A Prodigal Daughter Returns
Lily A. Bear / Christian Light Publications
Abigail had given her heart to the Lord at a young age, but as she faced the temptations of youth, she was lured away from God. A shy girl who only wanted to be home with her loving Christian family, she hated school, where she felt excluded and unaccepted. More seriously, she failed to take her burdens to God and her parents.
Instead, Abby became friends with ungodly teenagers at the ice-cream shop where she worked. Secretly she planned to live life the way she wanted as soon as she was eighteen. Abby plunged deeper into sin, becoming enslaved to alcohol, adultery, and selfish pleasures. Grief-stricken, her parents and church never stopped praying for Abigail's salvation.
Weeping for Abigail is a thrilling, true account of how God won back His lost and miserable daughter. More info...
---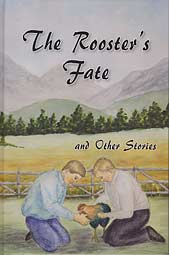 Elaine Martin / Rod and Staff Publishers
Pepper strutted boldly down the feed alley toward the boys, crowing and flapping his colorful wings with dignity. The rooster had been ruling the barnyard animals for a number of years, and he was as proud and kingly as ever.
"Can he fly?" Brian asked.
"I don't know," Melvin admitted. "I never saw him fly, but surely, being a bird, he should be able to fly." Suddenly he got an idea. "Why not take pepper up the forty-foot silo and let him slowly float down to the ground? That would be a good way to see if he can fly."
The boys caught the big rooster, and Melvin hurried up the silo to try out his plan. But the experiment didn't turn out as he thought it would, and two sober boys were left with the results of their careless and hasty actions.
The Rooster's Fate and Other Stories is a collection of forty well-written stories that will help children see the importance of right attitudes toward themselves, and their responsibilities, their circumstances, their siblings, and their peers. Written for ten- to fourteen-year-olds. More info...
---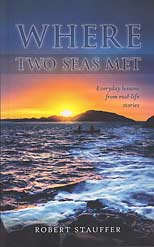 Everyday lessons from real-life stories
Robert Stauffer / Christian Light Publications
This book is chock-full of stories like these:
In the growing darkness, the two men paddled for all they were worth into a strong headwind and heavy waves.
When their arms grew tired, the boys altered their form of planting squash seeds until they heard a shout from behind them in the field.
It had been a long flight and Yong Cho stood to stretch his weary limbs. He could have afforded better accommodations, but flew coach for a reason.
Each event is true, and each was a learning experience. Where Two Seas Met includes these and many other true life-lessons told by a humble and honest story teller.
The author says, "The stories in this book reflect lessons the Lord has taught me through His Word and experiences He has permitted in my life. My hope and prayer is that the stories in this book will kindle a deeper longing in your heart to know the Lord and His Word."
Where Two Seas Met can be read to children, incorporated into family worship and school devotionals, or read for personal inspiration. More info...
---