Welcome to MilestoneBooks.com!
We are an independent vendor of materials by Rod & Staff and other publishers. We offer affordable Bible-based curriculum and character-building storybooks, helping build a solid Christian education for schools and homeschools. These quality textbooks take a traditional approach to schooling. We attempt to sell the best, and strive to provide fast, friendly service. We're a small business located near Halsey, Oregon, but we ship worldwide. Your questions and comments are welcome.
—Joel (more about us)
What's New at Milestone Books . . .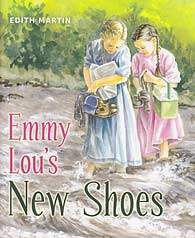 Edith Martin / Christian Light Publications
"You'd better stay out of the creek. The water is too high to wade today," Mom said. Emmy Lou meant to obey, but after school Becky came to play. What happened next made Emmy Lou very sad.
Later, Emmy Lou wished she could do that day over again. She couldn't do that, but she could learn from her mistake. And then one day, Emmy Lou got a surprise. More info...
---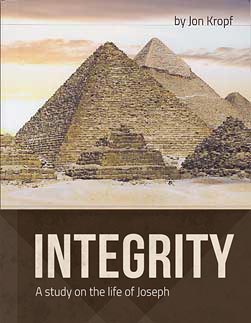 Jon Kropf / TGS International
The story of Joseph is one of the most amazing stories in the Bible, standing as a favorite of both children and adults. Joseph's response to both adverse and favorable circumstances still speaks to us today, his irreproachable character serving as a role model for people of all ages.
Written for youth and adults, this study of Joseph's life addresses pertinent topics such as personal integrity, respect for authority, moral purity, forgiveness, repentance, and salvation. Utilizing discussion questions and learning activities, the ten lessons become alive and applicable in everyday situations. Extra background material as well as suggestions for extra-curricular reading round out the lessons.
This study was first taught as a Vacation Bible School course. However, it has been designed for multiple settings, including high schools, home schools, and missions. It can also be used for personal or small-group Bible study, one-on-one discipleship, and evangelism.
Be strengthened and encouraged as you study about a man of true integrity, and may you resolve to imitate his character. More info...
---
Mary Currier / Christian Light Publications
With a happy puppy showing the way, children are reminded to be patient, respectful, content, alert, and much more. Activities in this mini book include tracing, matching, dot-to-dot, mazes, and more. More info...
---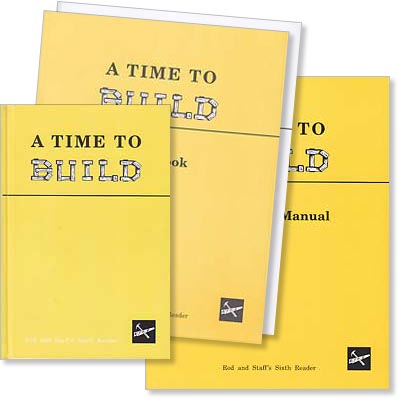 Revised Workbook
Rod and Staff Publishers
A revised and expanded workbook (with accompanying test booklet and teacher's manual) is now available for grade 6, following the pattern of the previously-revised grade 5 course. The workbook contains a Lesson Outline for most lessons, and a variety of exercises, such as fill-in-the-blanks, true-or-false, best-choice, and sentence answers. It offers vocabulary skills, theme selection, sequencing, and composition. Suggested scoring points are given for each lesson.
These materials are designed for use with the existing grade 6 reader, which has not been revised, and still includes exercises after each lesson. Feel free to skip those exercises if you are using the expanded workbook, which will have sufficient exercises for the whole grade.
(If you still want to use the reader's exercises, the previous edition teacher's manual, along with the supplementary "Building Reading Skills" workbook and teacher's edition, are still available.)
---
Dallas Witmer / Rod and Staff Publishers
A New Age has dawned—the Age of Aquarius! New powers are being unleashed. Man is becoming like God, if indeed he is not already God. One-world government and a universal religion will usher in an age of unprecedented peace and harmony. Individually, the spiritual union of inner space with the earth and outer space will provide the conditions for well-being and self-healing.
So go the claims. The New Age pretends to have leapfrogged religion, science, and even logic in opening new frontiers of awareness and healing, oneness and peace!
But beware of the New Age facade. More info...
---
David and Ruth Mast / Rod and Staff Publishers
Contains thought-provoking questions to study and answer after each chapter, helping you to profit more deeply from the book. More info...
---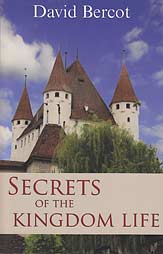 David Bercot / Scroll Publishing
Jesus says, "If anyone desires to come after Me, let him deny himself, and take up his cross, and follow Me. If anyone comes to Me and does not hate his father and mother, wife and children, brothers and sisters, yes, and his own life also, he cannot be My disciple." To be disciples of Jesus, we must deny ourselves, our families, and everything we own—even our very lives. Following Jesus would seem to be one of the most challenging quests we can face.
Yet Jesus also tells us: "Come to Me, all you who labor and are heavy laden, and I will give you rest. Take My yoke upon you and learn from Me, for I am gentle and lowly in heart, and you will find rest for your souls. For My yoke is easy and My burden is light."
How can both of those teachings be true? First Christ requires us to deny everything, including our own lives. Then He tells us that His yoke is easy and His burden is light. How can His yoke be easy if He requires us to deny everything and carry our cross?
The answer is among the secrets of the Kingdom Life. More info...
---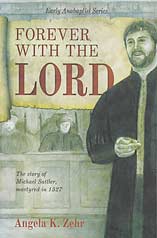 Forever with the Lord
The Story of Michael Sattler, martyred in 1527
Early Anabaptist Series
Angela K. Zehr / TGS International
What would it be like to be an Anabaptist? Ursula knows the Anabaptists are hunted, captured, and sometimes killed. Yet her sister Margaretha and her husband Michael Sattler find joy as they join the Anabaptists in their search for truth. Their joy remains even when they face persecution.
One of Ursula's brothers starts sneaking away at night and begins behaving mysteriously. Is he attending the Anabaptists meetings too?
Ursula is full of questions. How will these changes affect her family and their traditions? How can she know whether the Anabaptists are living the way the Bible teaches?
Join Ursula, a young girl in sixteenth-century Switzerland, as she faces these questions.
---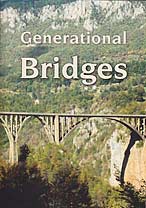 Charles Diller / Rod and Staff Publishers
Between one generation and the next lies a distance of years, experience, and maturity. Wisdom offered by godly parents is a great advantage to youth who receive it well. But those who isolate themselves from the older generation will suffer for their self-reliance. This book encourages youth to reach toward their elders, helping to build relationships that form the generational bridge. More info...
---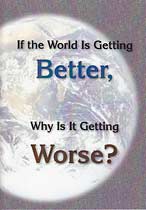 Isaac D. Martin / Rod and Staff Publishers
This book traces ways that society has gone downhill in recent years. But it also points out ways that we as individuals can still go up. Here you will find more than reminisces about "the good old days" or gloomy prophecies about the future. Cheer pervades these pages. Although the broad road is getting broader, the narrow way is still there if we look for it. Let us climb it together. More info...
---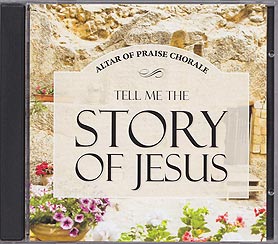 Altar of Praise Chorale / TGS International
The music on this CD is intended to be a quiet and meaningful message of hope. The voices are refreshing and distinct, unaccompanied by instruments. The songs magnify the Saviour who came to earth to redeem us from sin so we can have eternal life. Listen to these inspirational songs and think about their message. As you listen, ask yourself, "Who is Jesus?" More info...
---