Welcome to MilestoneBooks.com!
We are an independent vendor of materials by Rod and Staff and other publishers. We offer affordable Bible-based curriculum and character-building storybooks, helping build a solid Christian education for schools and homeschools. These quality textbooks take a traditional approach to schooling. We attempt to sell the best, and strive to provide fast, friendly service. We're a small, family-based business located near Halsey, Oregon, but we ship worldwide. Your questions and comments are welcome.
—Silas (more about us)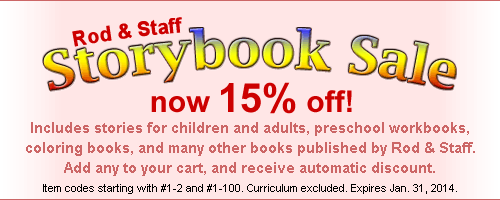 Rod and Staff Storybook Sale: now 15% off!
item codes starting with #1-2 and #1-100
automatic discount
expires January 31, 2014
What's New at Milestone Books . . .
Manuscript and Cursive Handwriting for Grades 1 - 8
---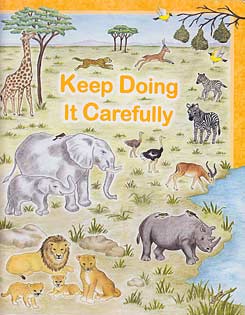 Preschool Series Workbook
Martha Rohrer / Rod and Staff Publishers
The newest addition to the preschool series has a deserts and grasslands theme.
Teaching Aims:
Practice skills of thinking, tracing, writing coloring, matching, cutting, pasting, counting, and drawing.
Identify and use eight basic colors. Introduce the color gray.
Review six shapes: circle, square, triangle, rectangle, diamond, and oval.
Trace and draw some designs from dot to dot.
Match letters and words by visual discrimination.
Write capital and small alphabet letters correctly and some words.
Count and identify numbers 0 to 20.
Write numbers after, between, and before 1 through 10.
Write birth date and telephone number.
Introduce the calendar and copy days (up to 31) of birth month.
Identify the order of happening for pictures of a Bible story.
Learn about deserts and grasslands of the world.

Deserts are dry areas and can be hot or cold.
Grasslands are often fairly level areas with few trees.
Identify some birds and animals that live in these areas.
---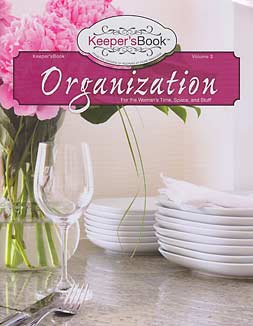 Keeper'sBook Volume 3
For the Woman's Time, Space, and Stuff
Marvin and Miriam Wengerd / Carlisle Press
Need help with clutter control?
Want a hand organizing your home?
Looking for time management ideas?
32 authors share their insights and experience to bring you the ideas and motivation you need to be the organized person you want to be! More info...
---
Darlene Boll / Rod and Staff Publishers
Olive is a happy little girl who loves her family. She has a Christian father and mother who teach her about God and His ways. She has happy times with her sister Joy and her other friends in the community.
Olive also enjoys the animals on their little farm. She has her own special bunny named Clover. She can milk Daisy the goat all by herself.
One day Father has sad news. Daisy is not in the barn. She is not in the pasture. The family looks and looks. They call and call. But they cannot find Daisy. Where can she be?
This delightful book is a sequel to Olive. More info...
---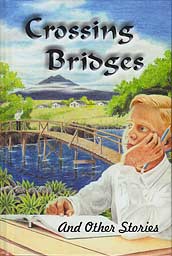 Mrs. Silas Bowman / Rod and Staff Publishers
Caleb had just found out that his best friend was moving four thousand miles away. It was staggering news. Joseph was the only other boy his age at school, and he and Caleb did many things together. What would he do without Joseph? That question throbbed through his mind and gnawed at the pit of his stomach.
"You can't cross a bridge before you come to it," Father explained that evening.
Together, Caleb and Joseph begin to understand what Father meant. It was another lesson to learn on the journey of growing up, one that would continue to bless them throughout their lives.
Crossing Bridges and Other Stories is a collection of stories for intermediate-age children. More info...
---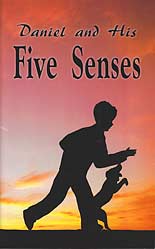 Faith Sommers / Rod and Staff Publishers
Although Daniel has five senses in excellent working condition, it is easy to forget how blessed he really is. With the help of his family and friends, Daniel soon realizes how important these senses are and how they affect his whole life in ways he never thought of. More info...
---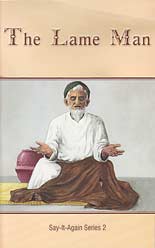 Say-It-Again Series 2
Mrs. Marvin Good / Rod and Staff Publishers
The second book of the Say-It-Again Series #2 (five more are being prepared). These books were written to provide simple, repetitious stories to be read by beginning readers who can profit by the extra repetition, or to be read to younger children whose minds can more readily grasp the content of oft-repeated material. More info...
---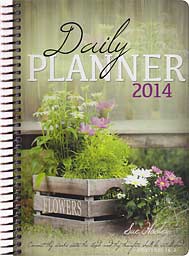 Sue Hooley / Vision Publishers
New and improved once again, and packed with friendly features:
Page size: 5.5" x 8.5"
14-months for easy transitioning
Holidays and Daylight Savings Time alerts
Inspirational quotes heading each section
Scripture verses for each week
Contextual calendars on week and month views for quick orientation
Tabs and dog-ears for quick reference
Tear-out shopping lists
Pocket storage inside back flap … More info...
---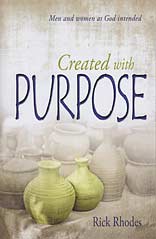 Men and Women as God Intended
Rick Rhodes / T.G.S. International
What role does God intend for men and women to fill? In a day when words like unisex, cross-dressing, homosexuality, same-sex marriage, and sex reassignment surgeries are increasingly common, do we really understand God's plan for the two genders?
Rick Rhodes, who lives in a country that performs the most sex reassignment surgeries in the world, has sought God's Word for answers on gender roles and shares his insights into some of these issues. He is well aware of cultural differences, having lived in the United States, on a Caribbean Island, and in Southeast Asia, and firmly believes that Biblical principles for men and women can be applied in every culture and every time period.
As society turns its back on Truth, it also turns to deception and confusion. What will you and I do?
This book is a refreshing reminder that God's original design cannot be improved upon! More info...
---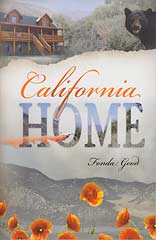 Fonda Good / T.G.S. International
Twelve-year-old Olive Brenneman doesn't know any home except California, since she moved there with her parents when she was too young to remember. What she does know is that life where her cousins and grandparents live in eastern Ohio definitely seems superior to hers. She dreams of the fun times at family reunions and the seemingly carefree lives her relatives talk about. In contrast, her life on a mountainside in dry California seems difficult and unexciting.
But slowly, Olive's perspective begins to change. She begins to understand that she is experiencing things in California that she would know nothing about if her family had stayed in Ohio. And most important, she realizes that God called her family there and where God places us is always the best place to be. Join Olive as she and her family experience excitement, fear, and tragedy in their California home. More info...
---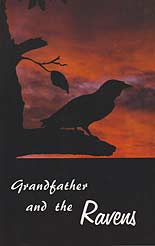 E. Grove / Rod and Staff Publishers
With his black feathers and raucous wac, wac, wac, the raven may not be the most handsome or musical bird. But Grandfather opens his store of memories to show that while ravens can be both amusing and frustrating, they never fail to fascinate. More info...
---