Welcome to MilestoneBooks.com!
We are an independent vendor of materials by Rod & Staff and other publishers. We offer affordable Bible-based curriculum and character-building storybooks, helping build a solid Christian education for schools and homeschools. These quality textbooks take a traditional approach to schooling. We attempt to sell the best, and strive to provide fast, friendly service. We're a small business located near Halsey, Oregon, but we ship worldwide. Your questions and comments are welcome.
—Joel (more about us)
Recent Additions...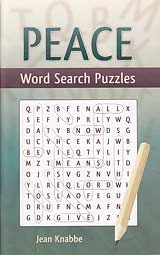 Jean Knabbe / Christian Light Publications
90 puzzles.
Are you looking for worthwhile ways to occupy your children? Do you want to brighten the outlook of a shut-in or a lonely senior citizen? Or perhaps you want to fill your own mind with thoughts of God. This book of puzzles may be just what you're looking for
The Bible verses in these puzzles remind us of what God says about peace. Real peace comes from being right with God. "Therefore being justified by faith, we have peace with God through our Lord Jesus Christ." In addition to finding the hidden words, you may enjoy the challenge of memorizing selected verses. More info...
---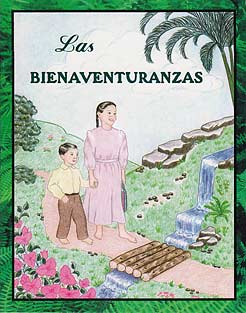 Linda Shirk and Miriam Zook / Editorial Vara y Cayado
Este libro cita e ilustra las bienaventuranzas de Mateo 5:3-12. Las letras abiertas y las ilustraciones se pueden colorear. El objetivo es que el niño memorice las bienaventuranzas mientras las colorea.
[This book quotes and illustrates the beatitudes of Matthew 5:3-12. Open letters and illustrations can be colored. The aim is for the child to memorize the Beatitudes as well as the colors.]
---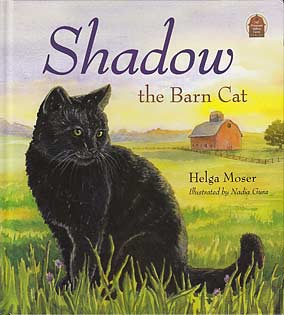 Pleasant Valley Farm Series
Helga Moser / Christian Light Publications
Shadow was a shy cat, but she was also brave and diligent. When Farmer Don ruined her perfect hiding place in a tunnel of hay, she didn't give up. Shadow searched and searched for a new spot. It had to be just right for keeping her secret safe.
This story creatively illustrates for children the scripture, "He that diligently seeketh good procureth favour." —Proverbs 11:27 More info...
---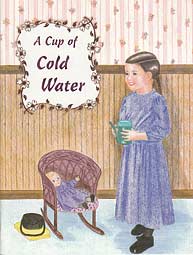 Little Jewel Book
Laurene Troyer / Rod and Staff Publishers
This story sweetly illustrates ways in which even a child can honor and care for the aged, through kindnesses as simple as giving "a cup of cold water."
My mother checks the calendar
And turns to look at me.
"Today we visit Sister Dawn
To do her therapy."

...
---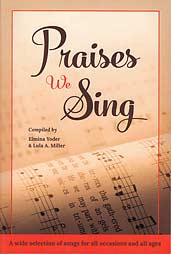 Elmina Yoder and Lula A. Miller / Christian Light Publications
382 songs. Inspirational songbook for children and youth. Especially designed for use in the Christian school (grades 1-12). Excellent for assemblies, summer Bible schools, Sunday schools, and the home. Contains a large selection of Christmas songs, songs for special occasions, anthems for high school singing, and much more. Topically arranged. Shaped notes. More info...
---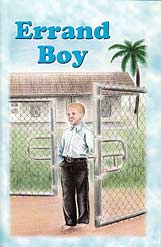 Edith S. Witmer / Rod and Staff Publishers
Six-year-old Larry and his family live in a nice house in Georgia. Larry likes to live there. He likes the swings that Father made for him and Marjorie. He likes to play with his new puppy. He likes all the friends who go to his church.
But Father says that God has another plan for their family. God wants them to move to a faraway land called Honduras, where many people are poor and sad and do not know about God. "God wants us to run errands for Him," Father explains. "He wants us to go to Honduras to tell the people about Him."
Larry knows all about running errands for his father and mother, and he enjoys helping them with their work. But he is not so sure about this errand.
In the life-changing days that follow, Larry and his family discover the many rich blessings that await those who are faithful in doing the Lord's work. More info...
---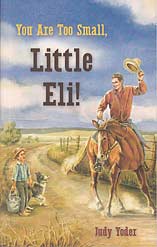 Judy Yoder / Christian Light Publications
"You are too little to go along, Eli," his sisters would say when they left for the hills to pick blackberries.
"You are too young to go this year," Dad said when Eli's sisters and big brother Sanford hurried off to the Diamond Point School.
Even Grossmommy said he must wait to do bigger things. It seemed no matter how long he waited, Little Eli could never grow big enough to do the things he wanted to do.
He was just the little errand boy—always pumping buckets of water from the well and gathering corncobs for Mom to light the stove.
Still, lots of exciting adventures await a shy little Amish boy on the wide Oklahoma prairies during the dry years from 1939 to 1942—a train trip to Iowa, entertaining some strangers during a blizzard, and watching cowboys working near his family's faded little farmhouse.
When Grossdoddy dies, leaving the Amish people without a bishop, Eli is surprised by some dreadful news. Is he big enough to face a new challenge in his life? More info...
---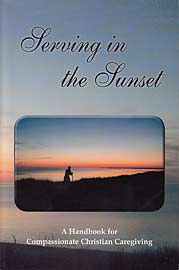 A Handbook for Compassionate Christian Caregiving
Mary Martin / Rod and Staff Publishers
So you have chosen, by the grace of God, to undertake the challenge and opportunity of caring for an elderly relative. What is the first step?
This comprehensive handbook for compassionate Christian caregiving is designed to answer many of your questions. It also includes suggestions on how the rest of the family and the local congregation can contribute to this noble undertaking.
Serving in the Sunset addresses physical issues such as retirement and the health and safety of older people, along with their spiritual, emotional, and social needs. Other subjects include legal and financial aspects and the challenges of seniors in their declining years.
This volume is a compilations of hints and suggestions, of difficulties and struggles, of blessings and rewards—contributed by individuals who were serving in the sunset. More info...
---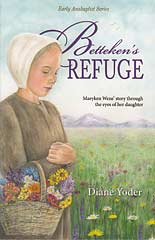 Betteken's Refuge
Maeyken Wens' story through the eyes of her daughter
Early Anabaptist Series
Diane Yoder / TGS International
When persecution comes to the city of Antwerp, Betteken Wens is afraid the priest will find out that her father is an Anabaptist minister. Then Betteken's mother Maeyken is captured and imprisoned for her faith. Her absence leaves a void in the family that cannot be filled, and Betteken wonders if God hears their prayers.
"God will hold all of us if we only let Him," Mama had once said. "He holds us close to His heart and gives us peace, no matter what."
Walk with Betteken as she faces fear and uncertainty but at last finds refuge and peace in God. More info...
---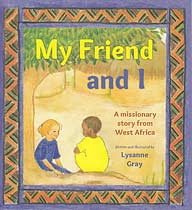 A missionary story from West Africa
Lysanne Gray / Christian Light Publications
Step through a round doorway and take a peek into daily life in West Africa. In this world of mud huts, grass roofs, and outdoor cooking fires, two little friends enjoy each other's company. One of the little girls is the daughter of missionaries who love to tell their African friends about Jesus. As the girls share food, help wash clothes at the river, and put the baby brother to sleep, they also talk about God and the Bible stories they have heard.
The author has illustrated the story with colorful, authentic scenes from a rural African village, such as the one where she and her husband serve. More info...
---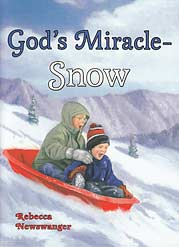 Rebecca Newswanger / Christian Light Publications
Simple rhymes and lovely pencil drawings depict children romping at play in the snowy winter landscape. God's handiwork, in the snow of winter, displays beauty as well as protects and replenishes His creation. Children and adults alike will enjoy this lovely little book.
Hundreds and thousands of snowflakes drop,
Millions and billions before they stop.
Pull on your boots and button your coat,
Scamper and play while the snowflakes float.
...
---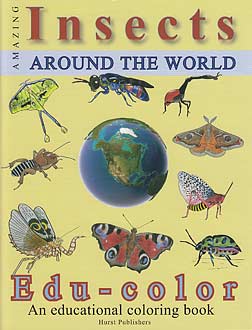 Anthony Hurst / Hurst Publications
What is so fascinating about insects? First of all, they show the amazing creativity of God, our Creator. Scientists have identified around one million species of insects. But they estimate that there may be a few million more to discover and identify! The Amazon region of South America and the Congo region of Africa are just full of these unidentified critters.
Second, consider the immense variety of instincts in insects. Take, for example, just bees and wasps—so many types of nests that they build, and so many different foods that they eat. How do they know what kind of nests their species should build? Do they ever get mixed up and try to build one like their neighbor's? No, of course not. God gave them the natural ability to build the nest just like they are supposed to.
As you color these pictures, I hope you are amazed and thrilled with the greatness of God. More info...
---