Welcome to MilestoneBooks.com!
We are an independent vendor of materials by Rod & Staff and other publishers. We offer affordable Bible-based curriculum and character-building storybooks, helping build a solid Christian education for schools and homeschools. These quality textbooks take a traditional approach to schooling. We attempt to sell the best, and strive to provide fast, friendly service. We're a small business located near Halsey, Oregon, but we ship worldwide. Your questions and comments are welcome.
—Joel (more about us)
Rod and Staff Storybook Sale: now 15% off!
item codes starting with #1-2 and #1-100
automatic discount
expires February 5, 2016
What's New at Milestone Books . . .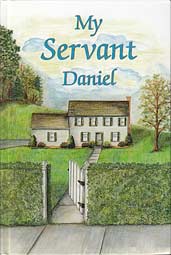 Steven J. Mast / Rod and Staff Publishers
Many years ago, patient Job endured the vengeful attacks of the enemy of his soul; faithful Christians of today are still the object of Satan's attacks. Sometimes God withdraws the protective hedge enough to allow great difficulties to assail His people and forthwith bring glory to Him.
in this present-day story, Daniel Glauben and his wife, Mary Ellen, face a serious of difficulties that threaten to drag them into a whirlpool of despair. One by one, normal life patterns and earthly securities collapse before them. But Satan's power is limited, and although God has opened the hedge, His overruling hand holds the Glaubens safe in His care. More info...
---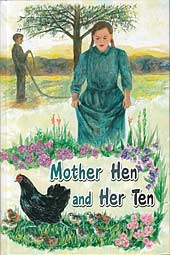 Sequel to The Little Black Hen.
Lynnita Hege / Rod and Staff Publishers
Words are broken into syllables to help the beginning reader.
Moth-er Hen has a se-cret hid-den un-der the old board floor. Ten white eggs are tucked in-to a straw nest. And no-bod-y knows that the eggs are there! More info...
---
This series for beginning readers features stories about Alvin and Amelia, two young children growing up in a rural Amish-style setting. Even children from other backgrounds will enjoy reading the simple stories of helping Father and Mother, interacting with family and friends, and the many kinds of down-to-earth adventures that happen on a farm where horse-and-buggy is still the way of life. More info...
---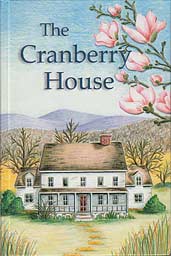 Dorcas R. Mast / Rod and Staff Publishers
The Cranberry House is an old, rambly, two-story house. Its clapboards had been white once upon a time, but now the paint is so badly cracked and peeled that the house looks gray. A sagging porch runs the length of the house, and the shallow sandstone steps that lead to the porch have time-worn hollows in the middle. The house sits spang in the middle of a squashy patch of spring-green grass. Some of the windows are broken, and they look like blank eyes staring at the visitors in surprise.
For fifteen-year-old Marguerite Stanton, the move to Clear Lake is hard enough. Leaving the beautiful home farm where she had lived all her life is a difficult thing. Even worse, none of her close friends are among the families chosen to move to the new church. But the Cranberry House is certainly the last straw. Surely Father and Mother will not seriously consider buying such an old, out-at-the-elbows house.
With all the impetuousness of a mid-teen, Marguerite struggles to accept the momentous changes that life brings to her. The key to joy is in her hand, but can she unlock the door? More info...
---
Sequel to Olive and Olive and Her Lost Friend.
Darlene Boll / Rod and Staff Publishers
Summer brings exciting days for Olive, especially when the West family comes to visit. Olive and Macy are the same age, and they soon become good friends.
The West family is looking for a church that obeys all the Bible. They like Olive's church. They want to move to Olive's community so that they can go to church there too.
Olive and Macy are happy. They would like to live near each other. But something seems to be wrong with Father and Mr. West—something that makes them very sad. And one day, Father has a sad story to share with Olive and Joy. The West family wants to obey the Bible, but something is standing in the way—something very, very hard.
Together, Olive and Macy and their families learn that even though God's ways may be hard, they will always bring peace. More info...
---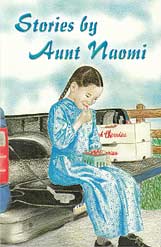 Naomi Martin / Rod and Staff Publishers
"But it's all Elwood's fault," Helen cried. "He should have seen Esther, and he should not have been swinging so high. I don't want Elwood for a friend anymore.
…
Edna looked down quickly. Oh, no! The front of her dress was stained red with cherry juice! "I ate some cherries, Mother," she said.
"Did Uncle Lewis say you may?" Mother asked.
"No. But I only ate a few," Edna answered. "Uncle Lewis doesn't care."
…
Then a naughty thought came to Mary. "Go out the open bathroom window," a little voice inside her said.
"That is just what I'll do," Mary decided. She quietly pushed up the screen and crawled out. The window was close to the ground, so it wasn't far to jump.
…
For children, sharing their toys, making new friends, treating animals with kindness, and obeying their parents are everyday experiences. These twenty-three stories will help children understand how God wants His people to live. Written for 4- to 8-year-olds. More info...
---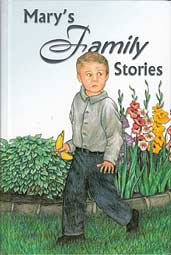 Mary Gerber / Rod and Staff Publishers
Mark was hungry, and he knew that Mother had a big box of bananas in the pantry. But Mother had said that he must wait to eat a banana until lunchtime. "If I could have just one banana," Mark thought. "Maybe if I go in through the cellar and up the stairs to the pantry, Mother won't see me."
Mark tiptoed up the steps and into the pantry. No one heard him as he took a bright yellow banana from the box. But disobedience does not pay, as Mark soon found out.
Esther and her mother had just taken a dozen eggs to their neighbor's house, and now they were on their way home. Esther had enjoyed seeing Rosie's pretty dolls, but something else puzzled her. Rosie and her family had a Christmas tree in the living room and bright lights in their windows. Why didn't Esther and her family have those things?
In addition to these stories, other stories teach about telling the truth, being a cheerful giver, failing to take responsibility seriously, and many more things. Mary's Family Stories is a collection of twenty-nine stories for children aged 3-8. More info...
---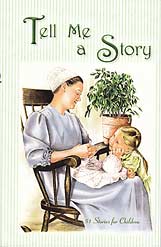 51 Stories for Children
Anna Weaver / Rod and Staff Publishers
Grandma Anna is a good person to answer the plea, "Tell me a story!" With her many years of experience, she has an instructive or informative story for every occasion. Written especially for 3- to 8-year-olds. More info...
---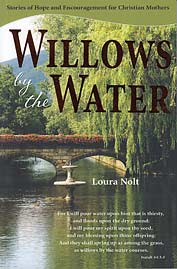 Stories of Hope and Encouragement for Christian Mothers
Loura Nolt / Carlisle Press
In the back yard of my childhood home stood a large weeping willow tree. Nearby a small stream meandered its way between our house and barn.
My five siblings and I spent many hours under the weeping branches of that willow tree. We played house. We swung on the branches. We climbed up to our seats formed naturally by the willow's trunk and branches.
Many of life's lessons were learned in sight of that old weeping willow.
Back then, playing house seemed so simple. My mother affirmed my perception by making mothering look fairly easy and I dreamily imagined myself a never-ruffled mother living happily in a never-gets-dirty house.
I have learned so much since those days under the weeping willow.
In my Willows by the Water stories you're invited to experience God's faithfulness as I learn the meaning of motherhood. The mountains. The valleys. The deserts. I feel blessed that you, my unknown sister in the call of motherhood, have chosen to spend your precious mother-time with me. When you're through reading the stories in Willows by the Water, I hope you go on being a mother who is strengthened, encouraged, hopeful and joyful. Somehow comforted that you're not alone. More info...
---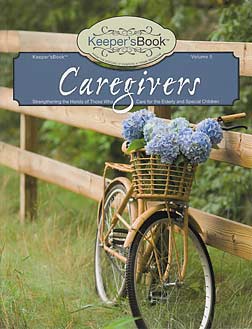 Strengthening the Hands of Those Who Care for the Elderly and Special Children
Carlisle Press
How we care for our elderly and special needs children among us in an indication of our love for Jesus Christ. ("As ye have done it unto the least of these my brethren ye have done it unto me.") The goal in Caregivers is to help us know how to think about our responsibility to the elderly and special children, and to give us lots of how-to and inspiration to do a good job—heartily as unto the Lord. Caregivers is written by 39 writers who have walked the talk. Be strengthened as you listen to their experiences. More info...
---