Welcome to MilestoneBooks.com!
We are an independent vendor of materials by Rod & Staff and other publishers. We offer affordable Bible-based curriculum and character-building storybooks, helping build a solid Christian education for schools and homeschools. These quality textbooks take a traditional approach to schooling. We attempt to sell the best, and strive to provide fast, friendly service. We're a small business located near Halsey, Oregon, but we ship worldwide. Your questions and comments are welcome.
—Joel (more about us)
Recent Additions...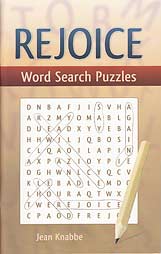 Jean Knabbe / Christian Light Publications
90 puzzles. The Bible verses in these puzzles remind us of the importance of being joyful. The Bible tells us to "rejoice evermore" and "In every thing give thanks: for this is the will of God in Christ Jesus concerning you." In addition to finding the hidden words, you may enjoy the challenge of memorizing selected verses. More info...
---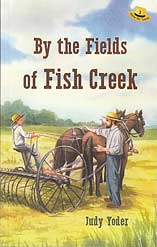 Little Eli Series—Book 2
Judy Yoder / Christian Light Publications
Here he is again, little Eli—still small but a bit older, a bit taller, and still wishing to help Dad on the farm. At their new home in eastern Kansas, a place of creeks and fertile fields, Eli is more than just a water boy. He milks Hipbones every day, and when the rush of summer arrives, Dad needs his help to rake the sweet-smelling hay. Dad also promises Eli he may run the buckrake, pushing the windrows into piles. But each time Eli tries, something dreadful happens.
Eli is never happier than when he can explore Fish Creek, which meanders through their farm. Then Dad and Mom begin to see dangers in Kansas that Eli doesn't fully comprehend. They begin praying about another move, and Eli finds he must leave Fish Creek and the West far behind. Will his dreams of becoming a cowboy farmer on the prairie be lost forever? More info...
---
Helga Moser / Christian Light Publications
Enjoy coloring favorite scenes and story characters from the Pleasant Valley Farm Series. More info...
---
Rebecca Newswanger / Christian Light Publications
Through lovely verse and full-color illustrations children learn secrets about the butterfly's life. From stationary egg through creepy crawly caterpillars, a cozy den and wet wings, the wonder of a butterfly points to our amazing creator. More info...
---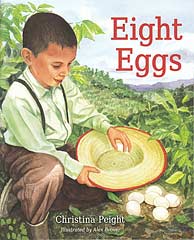 Christina Peight / Christian Light Publications
Carlos carefully carried a gift of eggs to the neighbors. Sharing made him happy. But the happiness didn't stop there! Watch how his gift sparks other acts of kindness. God loves cheerful givers! More info...
---
LeRu Publishers
These small activity books (approx. 5"×4") for children are just the size to keep in your purse for any moment when young minds and hands need something to do. More info...
---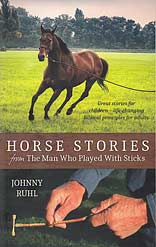 Great stories for children—life-changing Biblical principles for adults
Johnny Ruhl / Christian Light Publications
Every Sunday morning the children at the church in Hickory Stick were treated to a horse story from the man who played with sticks—horse trainer Vernon Boggs. But the stories weren't only for the children. The very first Sunday, Vernon explained, "I'm going to tell you a story about a horse named Raven. At the same time I'll be teaching a lesson to your parents, if they listen carefully."
So Vernon Boggs told the children how he almost gave up on Raven, an angry, fearful horse who seemed impossible to train. On another Sunday he told them about Cinnamon, a horse who refused to go where his rider wanted. The children learned how an older, well-trained horse taught a younger, restless horse how to behave, and how a mule could win a race without being whipped to run faster.
The children and parents in the congregation at Hickory Stick learned about more than training horses. Through the horse trainer's stories, they learned about obedience, God's ways, and being useful in God's kingdom. More info...
---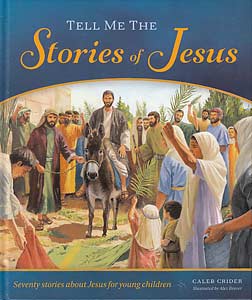 Caleb Crider / Christian Light Publications
Jesus loved people. He blessed children. He told stories, taught lessons, and stretched out gentle hands to heal. These simple stories and vivid illustrations help young children see Jesus as a real person who did real things.
Tell Me the Stories of Jesus will begin to form in children's minds the outlines of a picture that will be filled in as they grow—the picture of Jesus as a caring, understanding, and trustworthy Friend. More info...
---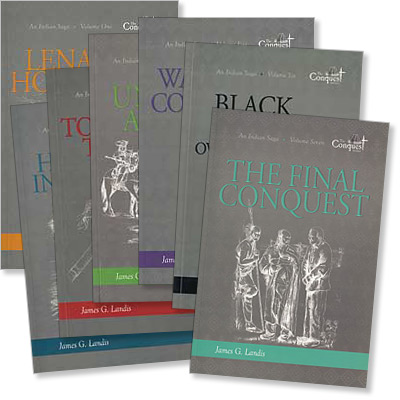 The Conquest Series: American History Through Indian Eyes
James G. Landis / TGS International
History is usually written by the victors, but this series of historical novels is an attempt to tell it as felt by some of the vanquished.
In gripping narrative, the first volume of The Conquest Series tells the early history of the Lenape Indians and the coming of the white man to the Delaware River Valley. It shows why the Lenape claimed the lands they lived upon as their homeland. It explains Indian concepts of land use and details how the Lenape men came to be called women.
Intent upon dominating the Lenape and their lands, avaricious Whites cames from England, France, Holland, and Sweden, sailing across the Great Salt Sea in their inspiring white-winged canoes. Men from each arriving nation brought their rivalry and warring methods to the Lenape homeland.
This Indian saga reveals how great sachems of the Lenape—Eesanques, Mattahorn, Tamanend—tried to preserve their homeland amidst the wonders and terrors brought by these European invaders.
The account, as imaginatively told by master Lenape storytellers, stands in stark contrast to the biased tales of the Whites' "pen and ink" men who thought themselves civilized and believed the Indians to be only crude savages. More info...
---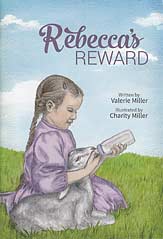 Valerie Miller / TGS International
Diligence has its own rewards, and the satisfaction of a job done right gives a happy feeling, Rebecca's mother tells her. Young readers will learn with seven-year-old Rebecca that diligence in doing chores results in a happy heart. More info...
---
Five teachings of Jesus often missed, ignored, or rejected
Gary Miller / TGS International
Jeremy and Alicia enjoy attending Lakeside Believers Fellowship. The sermons are gripping, the programs exciting, and the worship team is second to none. Without question, Lakeside is the place to be! But there is one problem: Jeremy and Alicia have never paid much attention to what Jesus actually taught.
Many people think they understand Christianity. They believe that a man named Jesus came to earth a couple thousand years ago, died on a cross, and then rose from the dead. They believe that accepting these facts makes them Christians and allows them to go to a place called heaven when they die.
That is what Jeremy and Alicia thought Christianity consisted of too... until they began to look at what Jesus really said. More info...
---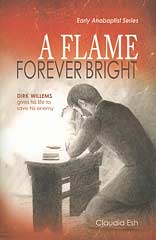 Dirk Willems gives his life to save his enemy
Claudia Esh / TGS International
Lucia Willems greatly admires her big brother Dirk. He treats her kindly and works hard to provide for the family. But he leads a dangerous life at odds with the law. With beliefs rooted in the teachings of Jesus, Dirk baffles his friends and angers the authorities. And when he acts on his beliefs and saves the life of his enemy, the whole town is shocked.
Lucia is angered at the injustice in her world. Yet as she faces her anger and pain, she remembers her brother's example. She finally learns that it is possible to live in a kingdom where forgiveness wins, evil is repaid with kindness, and death is a new beginning. More info...
---
Gary Miller / TGS International
Terrorism. From the barbarous actions of ISIS to the shocking tactics of al-Qaida, radical Islamic extremists seem to be everywhere and growing stronger. We can hardly pick up a newspaper or listen to a newscast without being assaulted with another wave of their horrific acts.
Americans wonder in alarm: What if this movement keeps growing? Will it overtake the West? Will it forever change America's way of life?
But there are other questions we as Christians should be asking: How should we respond to radical Islam? Does the Bible have answers? How would Jesus respond? More info...
---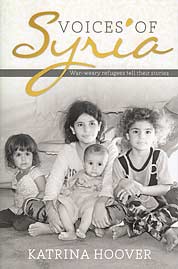 War-weary refugees tell their stories
Katrina Hoover / TGS International
Bombs fall. Buildings explode. People die. The war in Syria is a seemingly endless cycle of death and destruction. Yet behind the numbing statistics and finger-pointing headlines are real people—men, women, and children whose voices are seldom heard. Millions of them have fled their homeland in a desperate attempt to survive.
This book is a collection of Syrian refugee stories, an attempt to give a voice to ordinary people whose lives have been shattered and who long for peace. These stories are told in the context of the author's trip to the Middle East, a trip where she experienced Middle Eastern culture for the first time as she listened to brokenhearted Syrians who had fled to Lebanon and Jordan. Hear their stories. Listen to the voices of Syria. More info...
---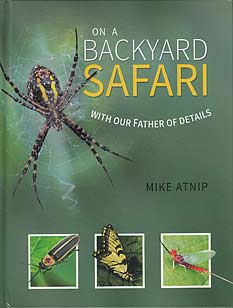 Mike Atnip / TGS International
Featuring eye-popping macro-photography and captivating stories, this beautiful volume is a cross between an encyclopedia and an adventure tale.
A fly with no mouth, a hydraulic-powered spider, a freeze-proof caterpillar, and a deadly message coded in light pulses—are such things found only in exotic places like Africa or the Amazon basin? Follow the author and his family as they discover these wonders and many more in a single two-acre Ohio backyard. And don't be surprised if this book puts you in the mood to strike out on a backyard safari of your own. More info...
---
Esta Mast and Evelyn Hege / Rod and Staff Publishers
A rat, a rat,
a rat in a sack!

The tan rat
is in the sack.

Scat, rat; scat.
Jill can help cut dill.

Jill can fill a bag with dill.

Cut, Jill; cut.

Cut and sing.
Simple words and catchy rhymes will help your first-grader to enjoy reading his first book. More info...
---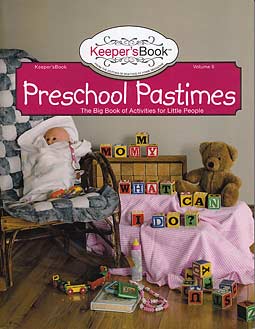 Keeper'sBook #6
Darlene Zimmerman / Carlisle Press
Compiled from the contributions of over 100 mothers, this is "The Big Book of Activities for Little People." More info...
---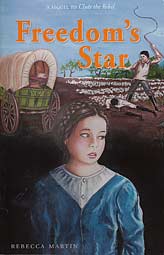 Rebecca Martin Heritage Series #5
Rebecca Martin / Carlisle Press
This is a story of two families. Both lived in the United States. Both wanted to see Canada. It was 1816.
The Peter Miller you met in Clyde the Rebel is now grown up, with a family of his own. He is a wealthy Pennsylvania farmer who, along with his married children, moves in order to own more land. Peter and his family load an enormous Conestoga wagon and travel to Canada in style with a team of four draft horses.
Not so the Paul Bolger family. They are slaves on a Virginia plantation and they are fleeing from cruel oppression. Always fearful of the slave hunters, they must run by night and sleep by day.
Kind friends help the Bolgers along. Though not yet known as the Underground Railroad in 1816, a route exists where slaves find lodging as they flee. It's because the Miller family has a slave hiding place that they get to meet the Bolger family.
But the Bolger's can't stay long. They must go on, following the Freedom Star.
All the way to her new home in Canada, Betsy Miller keeps wondering, "Will we find the Bolgers when we get there?" More info...
---
Sue Hooley / Vision Publishers
Designed for the busy homemaker, this planner will help you efficiently organize your schedule and de-clutter your mind. Includes pages for yearly, monthly, and weekly planning (2 extra transitional months included), as well as space for tasks, events, and addresses. A handy section of perforated pages in the back is included for weekly shopping lists—enough for the whole year. Thumb tabs, dog-ear page markings, and contextual calendars make this a fast reference tool. Along with inspirational quotes about God's promises, this edition includes Scripture promises for each week to point you to the homemaker's true Source of all help and hope. More info...
---
Arlene Byers / Rod and Staff Publishers
Rosa was seven years old, too old to cry very much anymore. Mamá had gone to heaven, and now Rosa lived with Tío Carlos and Tía Carmen. She wanted to be brave, but it was hard.
"Jesus will help you after I go," Mamá had said before she died.
Rosa looked at the fluffy popcorn clouds and wondered. If God had helped Mamá when she was sick, could He help Rosa too with her many troubles?
Although Rosa didn't know it then, God was preparing rainbows for her life—beautiful rainbows to comfort the lonely girl and remind her that God loved her and remembered His promises. More info...
---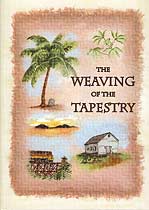 Audrey Siegrist / Rod and Staff Publishers
Now that he had reached the "old age" of twenty, Daniel Yoder faced the normal life decisions of a young man. Knowing that these decisions would affect his entire future, he wanted to choose wisely. Was God calling him to continue his service at home on the carpenter crew? Or was God calling him to teach at one of the many schools who were still needing teachers? If so, which school should he choose?
What should he do about finding a life's companion? Although he knew many fine girls, it did not seem as if he had found the right one. Did God have a godly young women for him—somewhere?
God would make His placements where it pleased Him, and Daniel had only to follow. The years ahead would prove that the threads of life were not all golden. Dark strands wove their way through the light ones; and together, they made a beautiful pattern, woven by the Master's skillful hand. More info...
---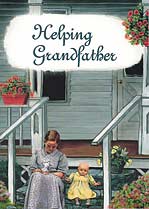 Edith S. Witmer / Rod and Staff Publishers
God has a special gift for five-year-old Sandra. This gift is her precious grandfather.
"Grandfather and Grandmother took care of me when I was a little girl," Mother explains to Sandra. "Now it is our turn to take care of Grandfather."
Sandra is pleased that Grandfather is coming to live with them. Perhaps he will read stories with her. Perhaps he will bring candy.
But something is happening to Grandfather. On some days, his mind is good, and he smiles and tells stories. On other days, his mind is sick, and he says and does strange things that make Sandra feel sad.
Through the days that follow, Sandra learns how to relate to the elderly and finds special joy in being Grandfather's helper. More info...
---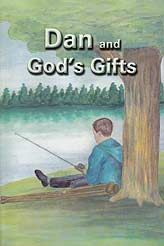 Lynnita Hege / Rod and Staff Publishers
Dan lost his left leg. He cannot run or jump or cut the grass. But Dan can swing and sing and fish. He can help Mother and Father, and he can still thank God.
This book is written for children who are learning to read. More info...
---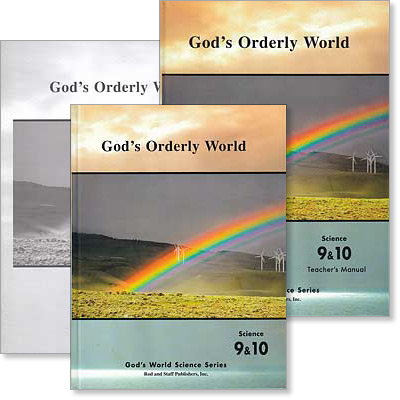 God's World Science Series
Rod and Staff Publishers
This final course is divided into 8 units, with a total of 122 class periods. Quarterly reviews prepare the students for a final test. The teacher's manual provides scheduling guidance for dividing the material into two years of study, although it may also be covered in one year if science is taught three to four times per week.
Unit 1 covers the principles of light, including color, optics, and the eye. Unit 2 covers work and machines. Unit 3 discusses energy and engines. Units 4 and 5 cover principles and applications of chemistry. Units 6 and 7 deal with electricity, magnetism, generators, motors, circuits, electronics, and electrical safety. Unit 8 introduces reproduction and heredity.
The book has many full-color illustrations, a glossary, and an index. The hardcover teacher's manual contains a copy of the pupil's book, an introduction to each unit, an outline of major concepts, and an answer key. Tests are in a separate booklet with tear-out sheets. More info...
---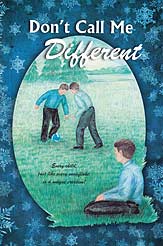 Mary Martin / Rod and Staff Publishers
Melanie is only seven years old, but she knows that she is the oldest and must be brave. Her mother has cancer, and no one knows if God will choose to heal her.
As Ervin finally recovers from rheumatic fever, his doctor shares the shattering news: Ervin's heart is permanently damaged. Will Ervin ever be strong again?
Haying season has returned, and Douglas longs to help in the way his friends do. He's almost sixteen, but he's still too short to drive the big tractors safely. Why has God chosen to give him unusually short stature?
Clayton knows that taking a nature hike with his classmates would not be possible for him. Joanne tries to satisfy herself by smelling cookies rather than eating them. Grace befriends a blind girl. Why did Victor need to eat during classtime? Why did the doctor wash out Albert's wax factory?
Just as every snowflake is different from all other snowflakes, every person is created in a unique way by a loving God. These nineteen stories illustrate how God's grace can help people of any age to triumph over life's most difficult and challenging questions. More info...
---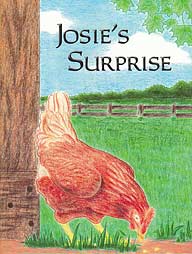 Little Jewel Book
Sharon Beachy / Rod and Staff Publishers
A little brown hen may not be the most common kind of pet, but Sally and Susan mother her as much as their dolls. So when Josie disappears one day, the girls become quite concerned.
In this story, children will learn about trusting God's care for us in sad times—and how God sometimes answers our prayers with a glad surprise.
Josie was a little brown hen. She belonged to two little girls named Sally and Susan.

When Josie was a chick, a piece of wood fell on her wing and broke it. Sally and Susan took care of her, and soon Josie's wing was healed. By then, Josie had become their pet.

...
---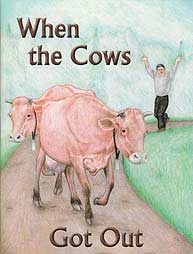 Little Jewel Book
Dorothy Koch / Rod and Staff Publishers
How could Timothy get the cows back into the barnyard? Finally, Timothy remembered that he could pray, and so an idea came to him. This well-illustrated book can help children learn about dependence on God.
One summer day, Timothy came to visit Grandfather on the farm. The farm was in the mountains.

Grandfather had many apple trees on his farm.

When Timothy saw the big apples, he ran to get one.

He was climbing the tree when he heard cowbells ring.

Clink clank, clink clank.

...
---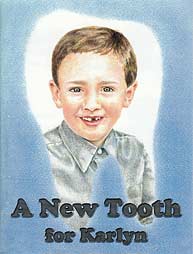 Little Jewel Book
Lillie Ann Martin / Rod and Staff Publishers
Five-year-old Karlyn learns how God has planned to give him a grown-up tooth. Children will relate well to the somewhat frightful experience of losing that first tooth.
A boy with sparkling chocolate eyes
Thought being five was fun!
And Karlyn was like any boy—
He loved to jump and run.

...
---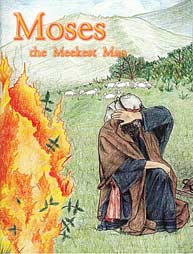 Mary Miller / Rod and Staff Publishers
A simply told story of Moses and the people he was called to lead out of Egypt. A good book to help young readers appreciate the work God did through a faithful man. More info...
---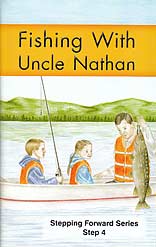 "Stepping Forward Series" Step 4
Mary Martin / Rod and Staff Publishers
Uncle Nathan gives Sheldon and Rachel a happy day. He takes them fishing! The children like to sit in the boat. They like to hear the waves splashing against the side of the boat. Uncle Nathan will show the children how to catch fish. Can Sheldon and Rachel catch fish too? More info...
---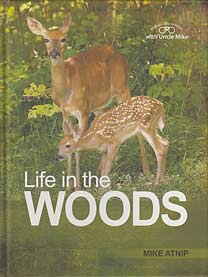 "Nature Discoveries with Uncle Mike" Series
Mike Atnip / TGS International
Did you know a fly's eye is made up of hundreds of little eyes? Have you ever seen a candy-striped leafhopper, scarlet elfcups, or the details of a crane fly's wings? Learn about many wonders of God's creation as you meander through the summer woods in Ohio. Children's photo book with text. Preschool through second grade. More info...
---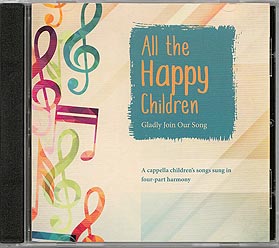 Bethesda Fellowship / TGS International
Children love to sing, and God loves to hear them sing. This CD contains many familiar children's songs sung in four parts to help train young ears for harmony. The nine adult singers are from Bethesda Fellowship in Plain City, Ohio. More info...
---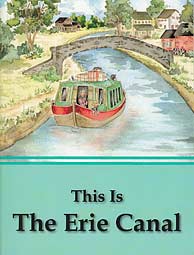 Rebecca Newswanger / Rod and Staff Publishers
Many years ago, settlers began to spread west across America. With horses and wagons, they found their way through the trees and over the mountains.
But the people needed better ways to travel back and forth. The merchants in the cities in the East wanted to ship goods to the settlers in the West. The farmers and trappers in the West wanted to send grain, fruit, and furs to the cities in the East.
De Witt Clinton thought of a plan. Why not build a canal across New York State? Some people laughed and called it "Clinton's Ditch." But De Witt Clinton did not give up. More info...
---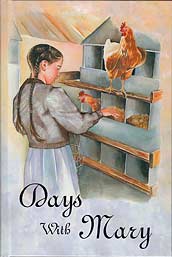 Mabel Martin / Rod and Staff Publishers
"When will I get a new dress for the first day of school?" Mary's green eyes sparkled. "When will we go to the store to buy dress material?"

Mother kept on cranking the handle of the butter churn. The thick cream slurped. Thoughtfully Mother looked at Mary. "Father and I decided that your new school dress will be made out of feed-sacks. Your old Sunday dress will also be a school dress."

The sparkle in Mary's eyes sailed away like little boats on a storm sea. "A feed-sack dress," she sighed.
Feed-sack material was used for making a lot of things, such as tablecloths, tea towels, quilts, and pillowcases. But for a school dress?
Life in the 1950's held challenges for everyone. But six-year-old Mary soon learned that contentment was not found in the things she wanted, but rather in thankful acceptance of what the Lord provided. More info...
---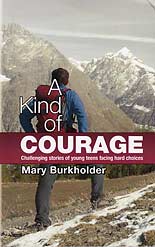 Challenging stories of young teens facing hard choices
Mary Burkholder / Christian Light Publications
Travis tensed as he heard his counsins' dirty talk. Again.
Kate stayed awkwardly in the background while her sister Amy laughed and flitted easily from person to person. It just isn't fair, Katy thought.
Haley's little brothers we so aggravating. "I wish you'd try a little harder to get along with the boys," said Haley's mom.
It was exciting to feel popular and important. But Nicole's new friends expected her to keep on slandering the teacher.
"What you need is a boyfriend," Emily said. "And I can tell you how to get one..." She leaned in closer, smiling mischievously.
Dad's always on me about something, Tony thought, scowling.
These stories are about challenges, struggles, and tough choices faced by young teens. You may recognize some of them... in your own life.
A Kind of Courage will help you make choices that will strengthen you spiritually and increase your desire to please God. More info...
---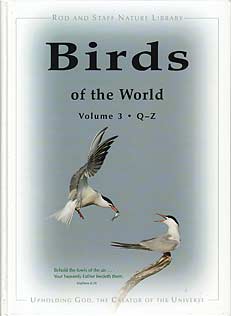 Rod and Staff Nature Library
Rod and Staff Publishers
Firmly based on the creation account in the Bible and God's maintenance of all things by the word of His power, this new reference will inspire your faith with the marvels of the feathered creatures. Here you will learn things you never knew about familiar North American species, and you will also explore the wonders of many other fascinating birds around the globe.
Easy-to-read, informative text that appeals to children and adults.
Over 300 photographs showing bird species in their natural surroundings.
Range maps for many species
Fact files in each entry to provide information at a glance.
Special features on supplementary topics such as bird's nest soup.
---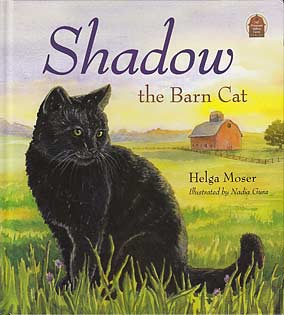 Pleasant Valley Farm Series
Helga Moser / Christian Light Publications
Shadow was a shy cat, but she was also brave and diligent. When Farmer Don ruined her perfect hiding place in a tunnel of hay, she didn't give up. Shadow searched and searched for a new spot. It had to be just right for keeping her secret safe.
This story creatively illustrates for children the scripture, "He that diligently seeketh good procureth favour." —Proverbs 11:27 More info...
---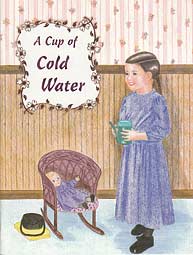 Little Jewel Book
Laurene Troyer / Rod and Staff Publishers
This story sweetly illustrates ways in which even a child can honor and care for the aged, through kindnesses as simple as giving "a cup of cold water."
My mother checks the calendar
And turns to look at me.
"Today we visit Sister Dawn
To do her therapy."

...
---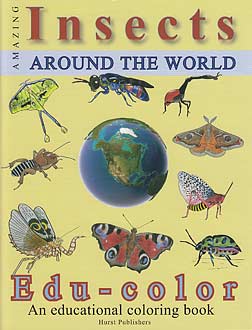 Anthony Hurst / Hurst Publications
What is so fascinating about insects? First of all, they show the amazing creativity of God, our Creator. Scientists have identified around one million species of insects. But they estimate that there may be a few million more to discover and identify! The Amazon region of South America and the Congo region of Africa are just full of these unidentified critters.
Second, consider the immense variety of instincts in insects. Take, for example, just bees and wasps—so many types of nests that they build, and so many different foods that they eat. How do they know what kind of nests their species should build? Do they ever get mixed up and try to build one like their neighbor's? No, of course not. God gave them the natural ability to build the nest just like they are supposed to.
As you color these pictures, I hope you are amazed and thrilled with the greatness of God. More info...
---