Jesus said,

"

That which is born of the flesh is flesh;

and that which is born of the Spirit is spirit.

Marvel not that I said unto thee,

Ye must be born again.

"

—John 3:7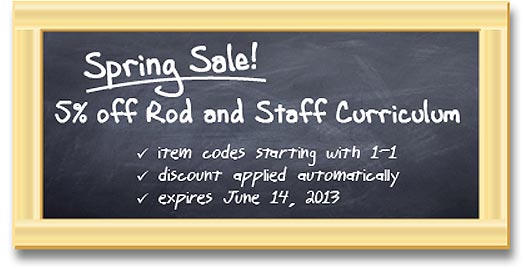 Spring Sale! 5% Off Rod and Staff Curriculum
item codes starting with 1-1
discount applied automatically
expires June 14, 2013
What's New at Milestone Books . . .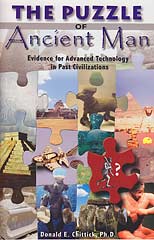 Evidence for Advanced Technology in Past Civilizations
Donald E. Chittick, Ph.D. / Creation Compass
Popular culture has led us to believe that ancient man was primitive, originating from primates and steadily improving through a process of time and chance. But does that agree with reality? What does the evidence left behind from past cultures tell us? Was ancient man simple and primitive as we have been taught, or did the level of science and technology existing thousands of years ago rival, or even surpass, the level of ours today in the 21st century?
In this updated edition, Dr. Chittick examines more details of technology, evidence of ancient machine power, and optical technology possessed by ancient people. Come and examine with Dr. Chittick what the facts say about ancient man that have long gone unnoticed and often times ignored by today's secular culture. More info...
---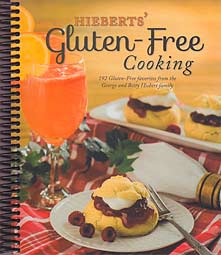 192 Gluten-Free favorites from the George and Betty Hiebert family
Carlisle Press
You hear the doctor say, "I suspect you are gluten-intolerant. I want you to go on a gluten-free diet."
Dozens of questions race through your mind. How do I cook without flour? Without canned soups? Will I never again enjoy a delicious cookie? Or a fluffy piece of cake? What about pizza? Or bread? Or cinnamon rolls?
Meet the Hieberts. For the past 25 years this family of nine has enjoyed eating gluten-free. Yes, gluten-free has its moments, but the Hieberts have conquered these difficulties. In Heiberts' Gluten-Free Cooking they offer not only their recipes, but also their moments of frustration and triumph.
With George and Betty and their seven children, you're not stranded on the island of gluten-intolerance. Life doesn't end when you go gluten-free. With Hieberts' Gluten-Free Cooking it's only a bend in the road to enjoying better health. More info...
---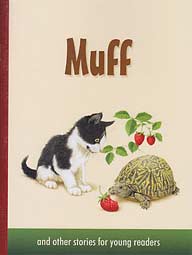 Little Sunbeams Series Book 1
Rachel Nighswander / Watrous Publications
This series is especially prepared to give extra reading practice to first-graders, at school or home. More info...
---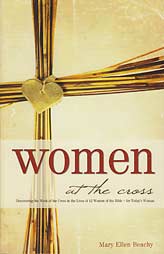 Discovering the Work of the Cross in the Lives of 12 Women of the Bible—for Today's Woman
Mary Ellen Beachy / Carlisle Press
"Now there stood by the cross of Jesus his mother, and his mother's sister, Mary the wife of Cleopas, and Mary Magdalene" (John 19:25).
This book is about women who came to the Cross, and continue daily to come to find purpose and meaning in life. My purpose for this book is to encourage ordinary women like myself.
To search the Scriptures and see the dedication of godly women and the difference they made in the lives of their families and others in Bible times.
To do your ordinary work "as unto the Lord," offering up yourself as a living daily sacrifice for Jesus.
To be encouraged with the lives of men and women who lived their days with the passionate purpose to please the Lord.
Life is filled with many ordinary days and mountains of mundane work. There are spiritual battles for each woman of God.
Unless we meet Jesus at the Cross we are not ready to meet the challenges of life. The Cross of Jesus Christ is either our comfort or our condemnation. The Cross of Jesus Christ is our salvation. We must know the Lord of the Cross!!
The first part of each chapter is about a woman from the Bible. Then down-to-earth lessons to learn from her, and experiences from my life and the lives of others who have embraced the "Way of the Cross."
The story at the end of each chapter is about contemporary women whose lives are worthy to learn from and emulate.
---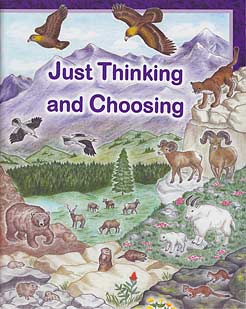 Preschool GHI Series Workbook
Martha Rohrer / Rod and Staff Publishers
Just Thinking and Choosing has a mountain theme.
Teaching Aims:
Practice neatness and carefulness in use and care of books.
Exercise thinking and choosing skills with cutting, pasting, coloring, tracing, writing, matching, counting, and drawing.
Review the five simple shapes and introduce the oval shape.
Write numbers 0 through 12. Count and identify numbers 0 to 30.
Introduce counting with ordinal numbers from first to sixth.
Identify opposites such as in and out, on and off, large and small.
Practice helpfulness and tidiness in daily jobs, health, and safety.
Recognize sequence of repeated shapes and pictures.
Find the order of happening for story pictures.
Understand use of objects, group similarities, and analogies.
Learn about God's provisions in the mountains of the world.

God cares for friends in the highlands of Guatemala.
Many animals live in mountains of North America and Asia.
Giant pandas, snow leopards, and yaks live in mountains of Asia.
Llamas live in mountains of South America.
---
Mildred A. Martin / Green Pastures Press
Gather around the table with Sharon, Peter, Timmy, Laura and Beth Miller, and read about how Timmy saves an elderly neighbor's life, Sharon teaches summer Bible school, Peter shoots the wrong deer, Sioux Indians return good for evil, and much more! As always, each "Miller" story is based on true incidents and illustrates verses from Scripture. More info...
---
Mary Joice Zimmerman / Rod and Staff Publishers
Good morning, Baby, round and rosy,
Bouncy, bouncy—get your nosey!
Soft and cuddly, warm and wiggly;
Tickle, tickle, Baby's giggly!
Happy Baby! Jolly, jumpy—
God has made you sweet and plumpy.
Dimply hands and smiles so cheery,
Jesus loves you, Baby dearie!
Twinkling eyes say "Peek-a-boo!"
Good morning, Baby. We love you!
---
Say-It-Again Series 2
Mrs. Marvin Good / Rod and Staff Publishers
Part of the Say-It-Again Series #2 (six others are being prepared). These books were written to provide simple, repetitious stories to be read by beginning readers who can profit by the extra repetition, or to be read to younger children whose minds can more readily grasp the content of oft-repeated material. More info...
---
Maturing in Music 8
Rod and Staff Publishers
This course is designed to follow Developing in Music. It has 24 lessons divided into 5 units and is arranged in a textbook-workbook format. Students write their answers in the workbook, which will provide a music reference source for them if they keep the book after completing the course.
The teacher's manual, bound with a durable paper cover, includes a reduced copy of each pupil page with the answers filled in. Oral reviews, drills, lesson outlines, teacher helps, and additional notes of interest are given in the margins.
In addition to reviewing and strengthening concepts taught in the lower levels, students will learn about characteristics of worthy hymn lyrics and church music, transposition of keys, reading round notes, the minor and pentatonic scales, notation of rhythm, dynamics, and song interpretation. More info...
---
Sharilyn Martin / Christian Light Publications
This is the true story of how God in His love and mercy reached down and touched the heart of a little adopted girl traumatized by grief and separation from her birth mother. The vivid oil paintings on each page capture the real emotions—the tears and the fear, the light and the peace—that make this simply-told story so powerful. The Night the Angel Came is not just for children—grown-ups, too, will treasure this beautiful story. More info...
---
Mrs. Cleon Martin / Vineyard Publications
The main character of this story is Ruth Weber, a girl on the brink of young womanhood. She sometimes struggles with discontentment, rebellion, and other troubles common to humanity.
You will also meet Robert, Ruth's exasperating yet lovable twin brother; Mom, who disorganized habits are a trial to Ruth; Dad, whose lack of words is a frustration to his family, and Maggie, the crusty and colorful owner of the Hawkesville General Store.
Walk with Ruth as she works in different homes; as she anguishes with her brother's struggles; as she tries to come to terms with life at home; and as she takes instruction for baptism. All the while her heart is yearning, groping for the truth. Find out how the mystery of God's Word is gradually revealed, and Ruth realizes there are spiritual things that can hardly be grasped by the mind—yet they are the essence of Truth.
Winding through the story like a silver thread is the Conestoga River; and when a minister uses it to illustrate God's plan for the Church of Christ, the river becomes a never-to-be-forgotten picture of eternal truth. More info...
---