Welcome to MilestoneBooks.com!
We are an independent vendor of materials by Rod & Staff and other publishers. We offer affordable Bible-based curriculum and character-building storybooks, helping build a solid Christian education for schools and homeschools. These quality textbooks take a traditional approach to schooling. We attempt to sell the best, and strive to provide fast, friendly service. We're a small business located near Halsey, Oregon, but we ship worldwide. Your questions and comments are welcome.
—Silas (more about us)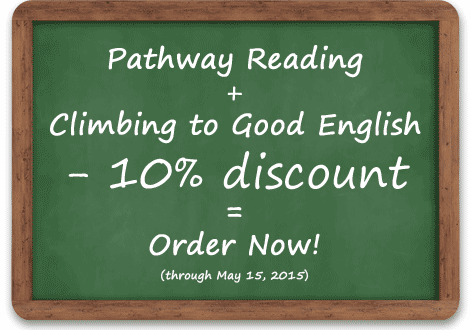 Pathway Reading Series + Climbing to Good English: 10% Discount
automatic discount
expires May 15, 2015
What's New at Milestone Books . . .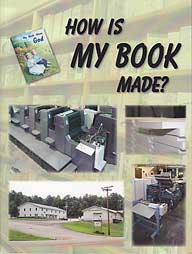 Marcia Bender / Rod and Staff Publishers
"Mother, I really like my new book!" exclaimed Alvin, hugging My Book About God to his chest. "Who made my book? How did they make it?"
To answer Alvin's questions, Father and Mother take the family for a tour of the Rod and Staff publishing house. From the writer's desk to the shipping department, Alvin sees the steps that a book takes before it reaches his mailbox.
This book is written especially for children and contains photos to illustrate the steps in the publishing process. More info...
---
Brenda Weaver / Christian Light Publications
Home is where manners are first taught and practiced. When Calebís baby sister arrives, he gets to practice the homemade manners Mama and Daddy are teaching him. A big brother must be kind and gentle. More info...
---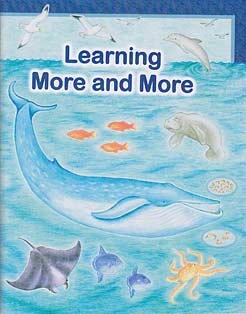 Final Preschool GHI Series Workbook
Martha Rohrer / Rod and Staff Publishers
Teaching Aims:
Practice skills of thinking, coloring, counting, tracing, writing, drawing, cutting, pasting, and matching.
Review and use eleven colors: eight basic colors, white, pink, and gray.
Introduce mixing the three primary colors to make other colors.
Count by 1s and 2s to 100 (or more). Write numbers 0 through 12.
Identify numbers 0 to 20 in dot-to-dot drawing.
Introduce pennies. Introduce hours on the clock.
Review six shapes: circle, square, triangle, rectangle, diamond, and oval.
Identify sequence of shapes. Draw shapes and simple pictures.
Match capital and small letters and words by visual discrimination.
Trace and write a few letters correctly.
Hear some rhyming sounds and a few initial consonant sounds.
Learn about birds and animals that live in or near the oceans.
Review the six other habitats of this series:

Polar lands are cold. Mountains are high.
Woodlands have trees. Grasslands have grass.
Rainforests are wet areas. Deserts are dry areas.
---
Mary Currier / Christian Light Publications
Thirty-seven simple pictures provide opportunities to practice counting and improve hand/eye coordination. A story summary briefly explains each picture. More info...
---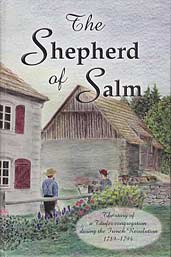 The story of a Täufer congregation during the French Revolution (1789-1794)
Joanna F. Martin / Rod and Staff Publishers
"What's going on here?" a voice thundered. "I wish you Täufer would get out of here!"
Christian Gerber jumped. Who? What? Why would anyone be so angry?...
He tried to remember. Something about that voice seems familiar—that German with a heavy French accent. Who can he be?
To Christian, Paris seemed far away that summer afternoon in Salm, and he did not guess how the uprisings the stranger described would affect the the next years of his life or disrupt the home he hoped to share with Anna K¨pferschmitt or call him to the greatest privilege God grants His children—the opportunity to lay down life to gain Life. Yet, Christian had placed his faith in the Shepherd, and he was ready to follow.
The Shepherd of Salm is a carefully researched and fully documented story of real people in real places. Some of this material has been gleaned from resources that were freshly translated into English specifically for this project. More info...
---
How a Cambodian genocide survivor and an American biker found the Lord and each other
MarJanita Geigley / Christian Light Publications
Young Pouv had a tender heart and a curious mind. Things just don't make themselves, she thought. Born into a Buddhist family in Cambodia, how would she find the truth?
When the Khmer Rouge swept in, bringing unimaginable horrors to Cambodia, Pouv's world—and her family—was ripped apart. Forced labor, brutal treatment, and living near starvation became her daily existence. Hundreds of thousands perished.
Pouv's questions remained. Looking into the starry night sky, she asked, "Do you ever wonder where this all came from?" No one answered. Did anyone know?
Dennis Burfete was a rowdy young rebel. Quick to take his own way and slow to follow orders, he was constantly in trouble. As a young man, joining a motorcycle gang gave him a sense of power and independence. "No one tells me what to do," he said defiantly. But his life became a wasteland of emptiness. Was this the best life had to offer?
Dennis and Pouv's lives were worlds apart, but they shared a common and desperate need. They each found the one and only truly satisfying Answer, and then they found each other.
A true testimony of God's love and mercy. More info...
---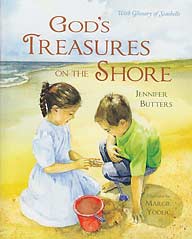 Jennifer Butters / Christian Light Publications
"Please come along and walk with us
along the sandy shore.
We'll search for treasures that were once
upon the ocean floor."
This beautifully-illustrated book of rhymes introduces children to beach creatures such as hermit crabs, starfish, and several types of shells. After taking a walk along the shore with a family (grandparents too!), your child can browse a glossary with more pictures and in-depth descriptions about these fascinating treasures which God created on the fifth day. More info...
---
And Other Stories of Earlier Days in America
Ruth K. Hobbs / Christian Light Publications
Let's go visit people who lived long ago—most of them over a hundred years before you were born! Their lives differed from ours in many ways. Imagine running a farm and taking care of your family alone, spending a winter in the north woods trapping animals, or working long hours in a grinding room. Young people today just don't do those kinds of things.
Times have changed since those days, but people remain the same. Young people then knew that obedience, respect, kindness, and hard work were important, just as we do. They faced temptations to do things they knew were wrong, just as we do.
Come along! Open the book—let's go visiting. What do these friends from long ago have to tell us? More info...
---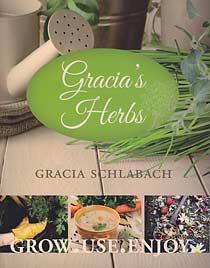 Gracia Schlabach / Carlisle Press
Do you love herbs with their intriguing flavors, colors, and textures? From leafy green basil to delightful sweet lavender, with rugged comfrey in between, herbs provide amazing natural seasoning, fragrance, and medicine.
Follow Gracia's hands-on experience as she plants the herb garden, sows seeds, and snips leaves for drying. Savor delicious herbs as she combines her favorite flavors. Then discover the versatility of herbs as she explores projects throughout the year—indoors and out. More info...
---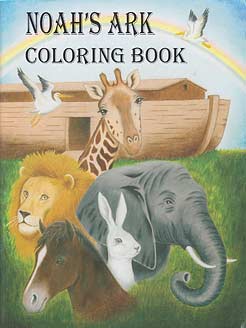 Rhoda Showalter and others / Christian Light Publications
Simple text and realistic, easy-to-color pictures bring the Bible story of Noah to life for young children. Provides hours of activity while reinforcing the story of God's promise. Includes cutouts for making a paper stand-up animals and stand-up ark (not to scale). More info...
---