Welcome to MilestoneBooks.com!
We are an independent vendor of materials by Rod & Staff and other publishers. We offer affordable Bible-based curriculum and character-building storybooks, helping build a solid Christian education for schools and homeschools. These quality textbooks take a traditional approach to schooling. We attempt to sell the best, and strive to provide fast, friendly service. We're a small business located near Halsey, Oregon, but we ship worldwide. Your questions and comments are welcome.
—Joel (more about us)
What's New at Milestone Books . . .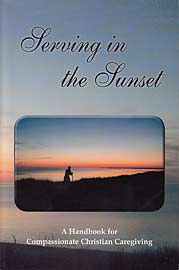 A Handbook for Compassionate Christian Caregiving
Mary Martin / Rod and Staff Publishers
So you have chosen, by the grace of God, to undertake the challenge and opportunity of caring for an elderly relative. What is the first step?
This comprehensive handbook for compassionate Christian caregiving is designed to answer many of your questions. It also includes suggestions on how the rest of the family and the local congregation can contribute to this noble undertaking.
Serving in the Sunset addresses physical issues such as retirement and the health and safety of older people, along with their spiritual, emotional, and social needs. Other subjects include legal and financial aspects and the challenges of seniors in their declining years.
This volume is a compilations of hints and suggestions, of difficulties and struggles, of blessings and rewards—contributed by individuals who were serving in the sunset. More info...
---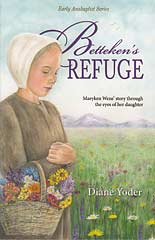 Betteken's Refuge
Maeyken Wens' story through the eyes of her daughter
Early Anabaptist Series
Diane Yoder / TGS International
When persecution comes to the city of Antwerp, Betteken Wens is afraid the priest will find out that her father is an Anabaptist minister. Then Betteken's mother Maeyken is captured and imprisoned for her faith. Her absence leaves a void in the family that cannot be filled, and Betteken wonders if God hears their prayers.
"God will hold all of us if we only let Him," Mama had once said. "He holds us close to His heart and gives us peace, no matter what."
Walk with Betteken as she faces fear and uncertainty but at last finds refuge and peace in God. More info...
---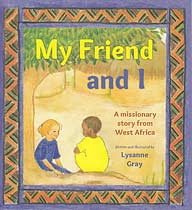 A missionary story from West Africa
Lysanne Gray / Christian Light Publications
Step through a round doorway and take a peek into daily life in West Africa. In this world of mud huts, grass roofs, and outdoor cooking fires, two little friends enjoy each other's company. One of the little girls is the daughter of missionaries who love to tell their African friends about Jesus. As the girls share food, help wash clothes at the river, and put the baby brother to sleep, they also talk about God and the Bible stories they have heard.
The author has illustrated the story with colorful, authentic scenes from a rural African village, such as the one where she and her husband serve. More info...
---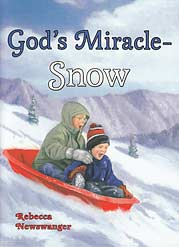 Rebecca Newswanger / Christian Light Publications
Simple rhymes and lovely pencil drawings depict children romping at play in the snowy winter landscape. God's handiwork, in the snow of winter, displays beauty as well as protects and replenishes His creation. Children and adults alike will enjoy this lovely little book.
Hundreds and thousands of snowflakes drop,
Millions and billions before they stop.
Pull on your boots and button your coat,
Scamper and play while the snowflakes float.
...
---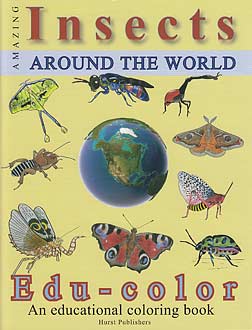 Anthony Hurst / Hurst Publications
What is so fascinating about insects? First of all, they show the amazing creativity of God, our Creator. Scientists have identified around one million species of insects. But they estimate that there may be a few million more to discover and identify! The Amazon region of South America and the Congo region of Africa are just full of these unidentified critters.
Second, consider the immense variety of instincts in insects. Take, for example, just bees and wasps—so many types of nests that they build, and so many different foods that they eat. How do they know what kind of nests their species should build? Do they ever get mixed up and try to build one like their neighbor's? No, of course not. God gave them the natural ability to build the nest just like they are supposed to.
As you color these pictures, I hope you are amazed and thrilled with the greatness of God. More info...
---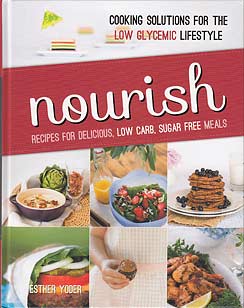 Recipes for Delicious, Low Carb, Sugar Free Meals
Esther Yoder / Nourish Cook
The Low Glycemic Index Diet has been studied and used for various health conditions including weight loss, diabetes and cardiovascular disease. A relatively new use of The Low Glycemic Index Diet is for controlling seizures. In this book you will read about Andria, a girl who suffers from seizures, and her family's successful journey with The Low Glycemic Index Diet. More info...
---
Manners Are Homemade Series Book 1
Brenda Weaver / Christian Light Publications
Children aren't born with good manners. Home is where manners are first taught and practiced. In this story Caleb learns that it is fun to share with others on his birthday. More info...
---
Manners Are Homemade Series Book 3
Brenda Weaver / Christian Light Publications
On the day Caleb finds a treasure, he practices good manners and remembers to say, "please," and "thank you." After he looses the treasure, Caleb thanks God when it reappears in a very unusual place. More info...
---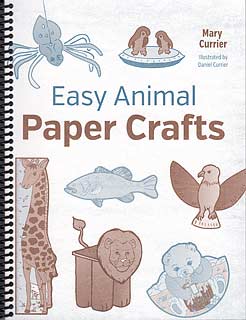 Mary Currier / Christian Light Publications
Are you looking for simple but interesting craft projects for your children to enjoy? This book is full of activities for young children, providing practice in coloring, cutting, folding, gluing, and displaying. May be copied, reduced, or enlarged for personal or classroom use, but not for distribution. More info...
---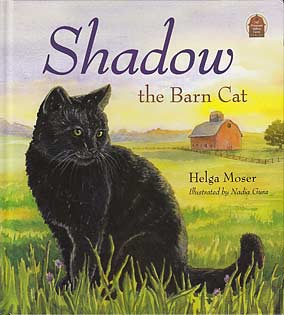 "He that diligently seeketh good procureth favour." —Proverbs 11:27
Helga Moser / Christian Light Publications
Shadow was a shy cat, but she was also brave and diligent. When Farmer Don ruined her perfect hiding place in a tunnel of hay, she didn't give up. Shadow searched and searched for a new spot. It had to be just right for keeping her secret safe. More info...
---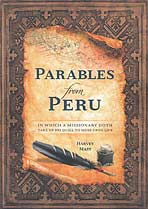 In which a missionary doth take up his quill to muse upon life
Harvey Mast / Christian Light Publications
And it came to pass that one day when the even had come, not long after the sun had set in the west, and whilst mine only son was chopping wood just outside the back door of our abode, that two armed men stole through the brier fence, girt up their loins, and charged right for him. And his heart leapt upwards towards his throat, and he did straightway run for safety, yet did he not have time to bolt the door behind him....
Missionary life in Peru brought great challenges to the Mast family. But amidst tribulation and sometimes deep anguish, God gave joy, peace, and spiritual growth. In these heartfelt parables written in a style harking back to yesteryear, Harvey shares lessons God taught them through both the lighter moments and the soul-moving low points of their sojourn.
Born through contemplation and prayer, each parable contains deeper meaning and insights for Christian living that will bless your own walk with the Lord. More info...
---